We recently looked at the impact VR marketing is having, and ways that the technology is offering prospective customers the ability to experience products, services, or even causes in a very different and more emotive way than was previously possible. One of VR's most unique features is its ability to allow people to experience something which is:
a long way from them

too complex or expensive to easily replicate in real life
Nowhere does VR shine with this more than in the communication of spaces. Unlike viewing locations on an image, a website or a TV screen, the immersive nature of VR means that places can be experienced versus simply being seen. Not only does this mean each fine detail can be communicated successfully to a prospective client but, virtual experiences also trigger responses from different parts of the brain - those which control higher-level thinking, emotion, motivation and primitive instincts - and these are especially relevant for marketers looking to provoke visceral responses to whatever they're selling. VR marketing brings true try-before-you-buy to spaces and opens up the world of potential customers.
Placing People Directly in the Action
The potential of VR to be a proxy for real travel is something many consumers are excited about. For many people, one of the most compelling uses of VR remains to allow them to see the world and experience locations and environments they would never otherwise have access to. For anyone with limited resources, mobility issues, or crippling fears of flying, VR is able to unlock a world of vivid and educational experiences from the farthest reaches of the earth. Apps such as YouVisit allow users to experience exotic locations across the globe in immersive virtual reality, while Discovery VR from Discovery Networks offers users the chance to virtually swim with sharks, surf majestic reefs or get close to endangered animals. Within professional sports, the use of VR marketing to bring viewers closer to the action is seeing significant growth. This year soccer's Champions League Final was made accessible to viewers via VR allowing them to watch the game all-but live from various enviable pitchside locations. Fox Sports also announced earlier in the year that it would be showing Super Bowl highlights in near-real time via VR allowing sports fans to view replays of the best moments of the game from numerous different angles right after they happened on the field.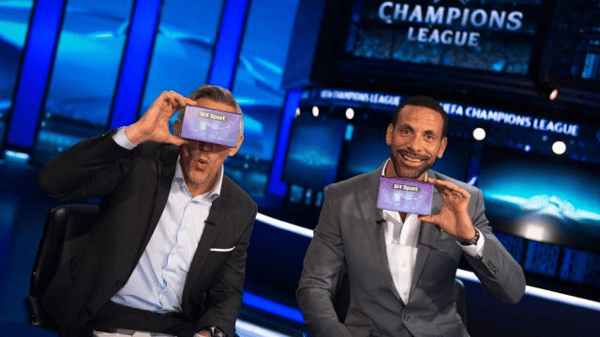 The Champions League Final VR experience was free. Photo: shopee.co.uk
But let's bring this concept of VR becoming a window into what would otherwise be impossible to see back to business and ROI. The experiential possibilities being showcased in travel and sports have real applications for business. VR marketing for spaces can be used to take people to places for the sheer experience of being there but it can also help people to make more informed buying decisions and expand the reach of potential customers.
VR Marketing in Virtual Real Estate
There is immense power in allowing new home buyers to experience unbuilt properties and full developments as if they were real or alternatively, to tour remote properties using just a headset. For those in real-estate, VR marketing allows for listed properties to be experienced by prospective clients from anywhere in the world. In the case of Sotheby's LA, prime properties are being viewed by those that want to tour multiple houses without spending multiple hours in gridlocked Los Angeles traffic. And agents of high-end international properties suddenly have the whole world as prospects, vs. just those in their office catchment area. Agents can showcase engaging VR tours on their websites and drive leads from anywhere, with clients who have seen the property and are certain they want to engage.
Beyond those looking to buy, for people looking to engage in long or short term rentals, being able to tour numerous properties simply by putting on a headset can dramatically change the experience. This is both for renters who can get a sense of how each property feels when inside it and owners who can pre-qualify interest before having renters visit in person. This can be particularly effective for properties listed on short-term rental sites such as Airbnb which experience high numbers of visitors. Via VR, travelers can experience every detail of a property before they commit to renting and owners can aggregate the cost of capturing the 360-degree footage over marketing to numerous potential customers.
Showing Off the View with VR marketing
Beyond the world of real-estate, there is an increasing number of smart ways VR marketing is being used to transport people to locations and environments to experience them in context and enable them to make more informed decisions on expensive purchases. Various sports teams have introduced virtual reality experiences that place fans in prospective season ticket seats at venues and take in very specific vantage points. The Sacramento Kings allow fans to experience the view from courtside seats via VR before buying and, at approximately $2000 per game per seat, in the words of Kings' president Chris Granger, "It gives people a great sense of comfort as to what they can expect. It makes the investment safe and easy for fans." The same logic can be applied to corporate boxes, premium lounge access at airports and much more. B2B sponsorship dollars that have an element of luxury space, or offer an impressive experience for their end clients can be better sold with VR marketing than with brochures and other images. It's true try before you buy marketing.
Small Business VR marketing
But you don't have to have a stadium or be selling an elaborate Italian villa to take advantage of VR marketing for spaces. If you have any kind of business that involves enticing people to see inside your space, VR marketing is for you. Venue businesses, like resorts or hotels, but also manufacturers of wedding tents and event rentals are dealing with clients very eager to understand not just the physical space they are buying, but the feeling it can evoke. They can tell their stories more easily and more immersively in VR than any other visual medium. Other potential wins are tradeshow and event marketers, who can show off the show floor in VR, and potentially upsell booth space. Or tour operators showing off places of interest and accommodations.
While virtual viewings cannot fully replicate standing in the real thing, for wedding venues, music venues, photography studios, film locations, and numerous other high-value spaces, being able to communicate specifics of size, style and layouts and put prospective clients directly within a space via VR is a powerful first step towards winning them over and ensuring a space is exactly what they're looking for.
There's no doubt that the ability to immerse people directly in any space, experience or environment using virtual reality has handed marketers an entirely new toolkit to get creative with. Whether locations are showcased using VR to demonstrate their most unique and compelling qualities for potential customers or environments being broadcast in VR are the experience themselves, there's no doubt that the technology is set to play an ever-growing role in how we view and evaluate the spaces which we choose to live, work and play in. To learn more about implementing VR in your practice, sign up for our FREE 5-day email course, or try it out with a free account.