Ever since the start of Yulio, we have recognized that one of the biggest points of friction for those in the furniture industry that want to use VR is content creation. Furniture dealerships may or may not even have the resources to have an in-house design team to create proposed layouts for their clients to see. Visualization is a powerful technique using an image to communicate a message or story that you would like to share with your client. However, not having any images for your clients can put you at a disadvantage compared to your competitors.
On a similar note, smaller furniture manufacturers face challenges with creating visual content since they have to use their finite resources to communicate how their products are better than their competitors. Without 3D visualizations or utilizing advanced technologies like virtual reality, many can't compete with the quality and how fast the larger manufacturers like Allsteel, Herman Miller or Steelcase can churn out projects.
However, cloud-based rendering offers a solution.
With its capabilities to shave down your rendering time while allowing you to continue using your computer and producing images with depth, cloud rendering is a great solution for those in the furniture industry to step up their visualization game.
Today, we'll be exploring how cloud-based rendering can transform the design process for both furniture manufacturers and dealers.
1. Simple to Use
Technology as a whole can be incredibly daunting, especially when looking for solutions that will help take your business to the next level. Not only can it often times take days if not weeks to feel comfortable navigating the platform, but the time used to train your team could have been used to complete projects. Plus, we understand how busy it can get with the various projects coming in. However, the beauty of using cloud-based rendering in furniture is that it requires zero training and is simple and intuitive to use. All you have to do is to let the engine do the work.
After you have finished your 3D model and set up your views in CET, click on our Yulio plugin, select your affiliated company, click "Create VR Project" and voila, that's it! We have tried to make the process as simple and easy to navigate as possible. With just a few clicks, your project is now being rendered and will return to you shortly.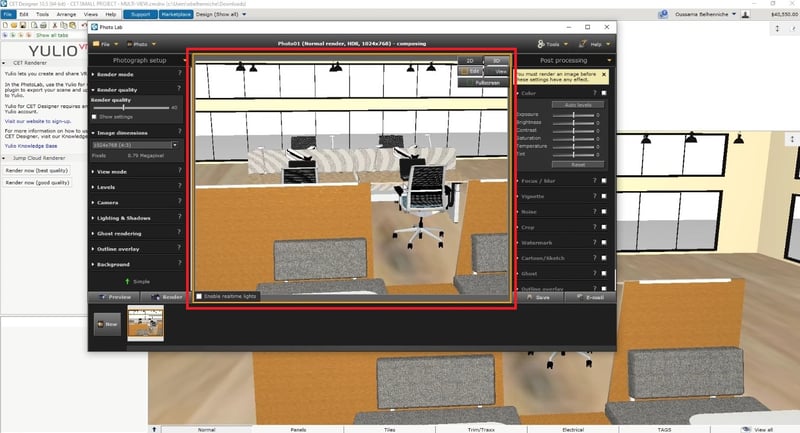 2. Save on Rendering Time
The most notable benefit of cloud-based rendering in furniture is how quickly it can render your scenes. This is because rendering platforms take advantage of a method of computing called parallel processing. Parallel processing, also known as parallel computing, refers to executing processes simultaneously. Now applying this type of computation to cloud rendering, to simply put it, parallel processing is like combining the computing power of 10 computers to execute a task at the same time versus just one PC. All PC's have limitations to how much they can compute at one time which is why rendering full-photorealistic projects can easily take longer than a full day to finish. With a cloud renderer, projects that may have taken an hour or two to render are now processed and ready for your next client meeting in a matter of minutes.
While most people would never expect it, the furniture industry never sleeps. Manufacturers are always looking for ways to match the speed of larger manufacturers to distinguish themselves from the sea of competition. Dealerships are constantly looking for better ways to communicate their product to get to the sale faster. Cloud rendering could be the tool that could address these two different but equally large pain points. Time is always of the essence when it comes to winning the next bid, and with a cloud renderer, you can receive VR-ready rendered images as fast as two minutes.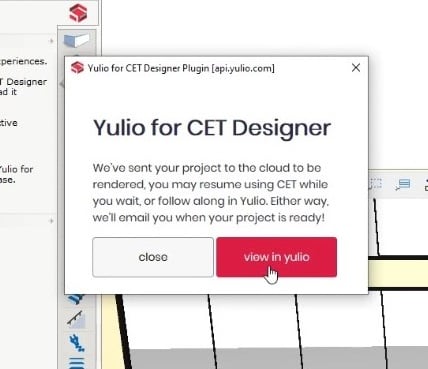 Bonus benefit: cloud rendering differs from rendering via a native app on your computer since it sends your projects to servers using the Internet. The concept is somewhat similar to dropping your clothes off at the dry cleaners to help with your loads of laundry, except at the end of it you won't need to pick it up, they'll deliver it right to your door. Because the servers exists outside of your computer, you can continue using CET or chipping away at the rest of your to-do list.
3. Quality
CET Designer comes with a native renderer when you purchase the CAD software, however the tool may not be of great use for larger and more important projects. While it is efficient and functions well, the end result you get with the native render is quite rudimentary. Although it gets the job done by presenting the proposed layout of your clients space, there is no sense of depth or realism that will make your project stand out from the rest.
Here's a comparison of rendering with the natively on CET versus Yulio Jump for CET:




With our Yulio Jump cloud-based rendering platform, achieve a more photorealistic result than what you could get with the native CET renderer


It's quite a stark difference between the two images. We are only able to achieve a greater photorealistic result because our platform utilizes our proprietary Ray-tracing technology. If you're unfamiliar with the term, ray-tracing is a rendering technique that tracks the various paths of light and simulates the effect on the objects in an image. To help you put it in perspective, say you're shining a single laser on a cup - this would be one ray of light. While the single point would give you some information about how light reflects off of it, it provides no further detail to the rest of the object and how it would behave under light. In order to achieve a more photorealistic result, you would need to collect more data on the various paths of light, which is exactly what ray-tracing is. With uploading a project into a cloud renderer, you are taking advantage of a massive amount of computing power and advanced technologies that will turn any project into a more refined result.
Get Started with Cloud-Based Rendering
While using cloud-based rendering for furniture may sound very enticing, we can still understand if you're feeling hesitant about the technology. After all, it may be your first time learning about it. However, the last benefit we would like to share with you is that cloud rendering doesn't have to be a costly investment. While render farms may use a pay-per-use model where you're usually charged per minute you use the server, we decided to take another route. Our Yulio Jump for CET license includes unlimited rendering plus access to a variety of our tools that will take your VR project to the next level. So we hope you're ready to jump with us to tap into the power of Yulio Jump, our cloud-based rendering platform.
---
Head over to our pricing page to get started with Yulio Jump for CET Designer. If you would like to see Yulio Jump in action, book a time to chat with our team – we would love to talk with you. For more information about Yulio Jump for CET, click here.