SketchUp has been the go-to tool for many interior design firms for the last 6+ years. Aside from its simple learning curve, the SketchUp program provides designers with the flexibility and modularity to create spaces that are as simple or complex as they want them to be. For straightforward 3D modelling applications, it comes as an incredibly open and modular platform where plugins can be added that can take projects to a whole new level.
As the program continues to advance, many transformative technologies - like Virtual Reality - have made it onto the SketchUp software through plugin options. Now, you can take your SketchUp project and see it in an immersive VR experience with just a few clicks.
Although the process is easier than ever before, many interior design firms have still yet to adopt it into their workflow. Before we address some of the core concerns, let's first answer the big question: Why VR?
Virtual Reality - What's the Big Deal?
VR is a powerful tool that allows you to go beyond the 2-dimensional into a new digital reality. Incorporating it into your design workflow can enhance your firm's process as a whole.
Stepping into your design helps you get a better understanding of possible design issues that could be overlooked when viewing it in 2D

Instantly gather better quality feedback quickly between iterations and quickly show alternatives side by side

Cut the constant back-and-forth meetings of comments and redesigning with greater understanding

Experiencing your space in advance leads to happier clients in shorter timeframes
Aside from improving your overall process, using SketchUp for VR also helps your firm create professional and engaging content for presentations, marketing and social media. You no longer have to rely on verbally explaining your design - instead, allow your clients to experience it for themselves.
While VR can elevate the design process for your business, and lead to faster decisions and more satisfied clients, we understand that you may still have concerns about how complex it is to use VR in your design process. Let's explore some of the most common core barriers that may stop you from blending VR into your business.
Cost
Many SketchUp users prefer the program since it's less expensive than many other 3D modelling applications. Especially with its wide range of supplementary plugins and extensive 3D asset library, SketchUp is a basic program that can be as simple or complex as you want it to be.
The good news is that VR doesn't have to be an expensive addition to your current SketchUp use. When you think of VR, you may be thinking of the complex, tethered experiences such as HTC Vive you've seen on TV etc. These are heavy helmet rigs with cables coming out the back etc. Many of these tethered VR applications can set your firm back over $400 per month.. The difficulty with a tethered experience is that it costs far more than a mobile solution, and it affects your firm's mobility of going to your clients and showing them your design.
The current price point for the average tethered VR headset alone is about $1000-$2000. In order to support a super-advanced piece of VR hardware, you will need a computer that is powerful enough to run the program which will set you back in the range of an additional $5000. Plus, the better the computer, the better the VR experience.
In contrast to these tethered experiences with the large price tags, Mobile VR is flexible and removes cost as a barrier to your adoption.
Mobile-powered VR offers designers flexibility and convenience at a fraction of the cost. Having a smartphone that can support VR applications is the bulk of what you need when using mobile VR - the other part is having the right hardware to view it. Currently, you can get your hands on a pair of decent VR goggles for just $20USD. Plus, if you're ready to invest in a more advanced piece of mobile VR hardware, the Oculus Go and Quest are one of the most advanced pieces of VR hardware and can be yours as low as $199.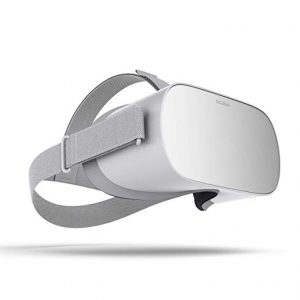 We definitely recommend looking for a good quality headset and a basic VR software program to help you get started. Our personal favourite is using the Oculus Go and our basic Yulio plan to help you get started on your VR journey. Going through the mobile route allows your sales team greater flexibility when showing your designs to your client. And after doing the math, using this solution will just come under the cost of one tethered VR headset alone.
It's Time-Consuming to Create Compatible Files
A few years ago, technology had not advanced to support VR for SketchUp. And even if you were ahead of the times and wanted to create VR experiences, rendering each image to fit every face of the necessary cubemap and stitch the images for one scene can become very time intensive. Perhaps for larger design projects, designers would invest the time to go through the whole process. However, for the smaller projects, creating a VR experience from start to finish just wouldn't be worth it. Often times, designers don't even have the time to execute such projects, which would lead them to abandon VR altogether.
But not anymore
.
We saw the frustration that many SketchUp users interested in VR were experiencing, so we made a free plugin that would combine their many steps into just one.
Once you've prepared your scene for rendering and have connected SketchUp to your Yulio account, head over to select your render engine, scenes, and upload location. Once you have selected Upload to Yulio, hit the Render button, and voila - it's complete! With a few simple clicks, you have just created your very own VR for SketchUp experience minus any hassle or extra time lost.
Not only could you now use this plugin for your large projects, but you now have the time to even create VR experiences for your smaller projects too. Showcase your firm's continual willingness to pursue fresh and immersive ways to deliver the clients vision and to provide extraordinary service and really stand out from your competition.
To learn more about our Yulio for SketchUp plugin, click here to access our guide.
It's Going to Further Clutter my Toolbar
We understand how quickly your toolbar can get overwhelmingly cluttered. Many plugins currently are a one task plugin, where you only need it to perform one specific task. Although there's a wide range of plugins to choose from, using a one task plugin can mean they're often unregulated, meaning their updates could get delayed or not happen at all. Plus, if you're trying to create a VR experience, you'd spend your time often waiting for your rendering to finish and then use your string of plugins to stitch the images together.
Our Yulio for SketchUp plugin has combined two of the most crucial steps from the content creation process. Not only will Yulio render the images for each side of the cube's face, but it will also stitch the images for you. We understand that extra steps take extra time, and your designers may not have the luxury of having the time to constantly create a VR experience from scratch. So by blending the two steps into one plugin, we have simplified the process of creating a VR experience in a reasonable and time effective manner.
VR is a 'Nice to Have'
Out of all the concerns, this is one that is the most common one at this stage of the VR adoption cycle - after all, your clients may not be expecting you to have VR presentation skills, yet. As technology continues to advance, many businesses run the risk of being too late to the game. It's no secret that industries have been transitioning into incorporating advanced technologies and have been achieving fantastic results. Plus, there is a reason why design firms are mostly using the technology for their larger projects - it's because VR works and can set you apart from the crowd.
Instead of thinking about how your firm doesn't need VR, perhaps the concern you should have is not keeping up the pace with your competitors. VR has become more simple, accessible, and affordable than ever before, leaving little reason to not have it as a part of your workflow. We understand that designers are always strapped for time and looking for new ways to execute a task better and quicker. However, like the concerns we just debunked, there are resources that can enhance, speed up, or eliminate some of the most time-consuming steps and help you get to the finished product quicker.
We're aware that VR hardware and software will continue to advance even in 2019 alone. However, it's also important to note that VR has come a long way since just a few years ago. What used to take a handful of plugins to achieve a result has now been streamlined into a single application to help you get your project in a timely manner. Transforming your SketchUp project into an incredible VR experience has become is as simple, mobile, and affordable than ever before.
---
If you're interested in trying out our VR program for yourself, sign up for our free 30-day trial. Or to get started in creating stereoscopic cubemaps on SketchUp, download our Yulio for SketchUp plugin here.