When comparing VR headsets for business, there is complexity beyond navigating the explosion of new hardware that's coming to market. Considerations have to be made around what's going to deliver the best experience to your clients through seamless sales presentations, and how that aligns with costs and ROI - and how effectively sales can use the hardware. However, with countless options to choose from with varying features and price points, what should you look out for when choosing the best VR headset for your business?
For Enterprise purposes, there really are two streams you can choose from - inexpensive VR accessory "headsets" that will get the job done and / or actual VR headsets that can deliver stunning and even greater immersive experiences. Headsets and accessories that require very little startup cost are perfect to businesses completely new to the VR scene, and are looking to test the waters before taking the plunge in investing in higher-end hardware. On the other hand, with VR headsets, you can be sure that your prospects and clients will be stepping into your design that could only be possible with virtual reality.
Before, we dive further into the two streams and our top picks for them, start by considering your use cases to help you answer the question of which headset will be better suited for your business. One sweet spot our clients have found for business VR is in quick, impromptu, out-of-office portfolio demos when prospecting for new business, while others may be focused on pitches in their own boardrooms, or on the presentation of designs when seeking feedback and sign-off. Whichever cases you are looking to solve with VR, headsets suited to the task are key, and having put in over a thousand hours of user testing, here are our recommendations for the best business VR headsets.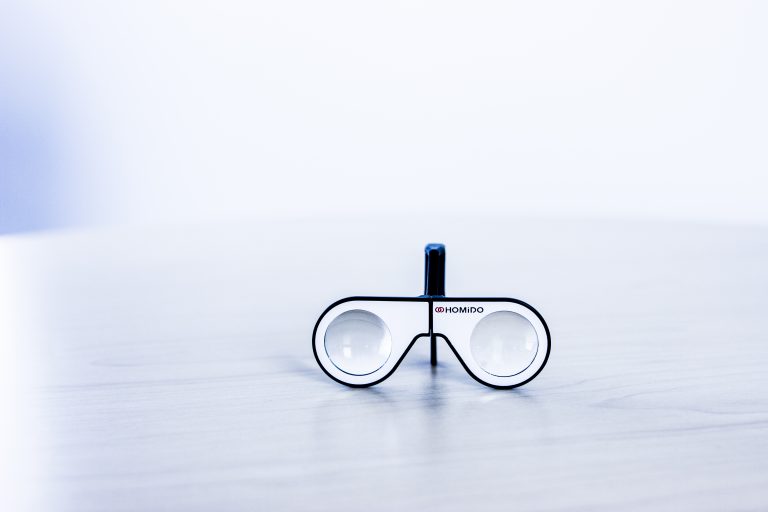 Minimal Commitment & Startup Costs
Homido Mini is the key player and our pick for VR headsets/accessories that allow you to try VR before jumping into more complex and advanced hardware. Costing around $15 each and working with any smartphone, the Homidos have greatly helped revolutionize the accessibility of VR and have given small independent businesses and firms the opportunity to harness the power of virtual reality.
The Homido Mini is small enough to fit in your pocket, meaning sales teams can easily showcase designs in VR wherever and whenever there's an opportunity. And even you need quick access to your portfolio or product showroom, you can easily take out your smartphone, clip the Homidos on, and pass it along to your clients. Or even for completely remote partnerships, Homidos are available on Amazon, so you can easily ship a few headsets to an office for the whole team to explore and enjoy your immersive proposal. Either way you use them, they are lightweight, compact, and are an effective affordable option. Aside from being, straightforward to assemble, they're also highly 'brandable' so can be given away to prospects affordably. We use them at tradeshows and presentations and they offer a solid viewing experiences and an exciting giveaway.
These lower-end headsets are effective for mobile VR, but they don't offer as immersive a viewing experience because they let light in and allow the real world to intrude little on a virtual environment. And while it allows you to gauge better a person's body language and facial expressions, it definitely is a more cost-effective utilitarian headset.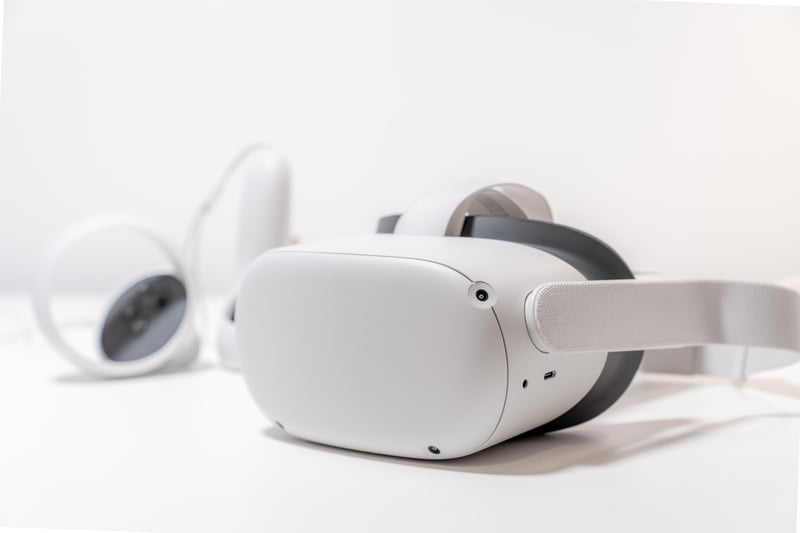 Stunning & Exceptional Experiences
Greater immersion through higher-end headsets can be an incredibly effective sales tool in the right presentations. Taking a step up in price and specs, we recommend our clients get the Oculus Quest 2 when starting in VR. At just $299USD, you can get your hands on one of the most advanced VR headsets currently available on the market. For more specs and a further in-depth review on the headset, you can read our post here.
Meta's Oculus Quest 2 is a standalone headset, which in lamens terms means that all you need to use the Quest anytime and anywhere is the headset and just the headset alone. The Quest headset offers a strong immersive experience, as well as the added bonus that it's affordable and you can really take it with you on the go. This is the perfect headset for businesses wanting to make an impact with VR without the complexities and inconveniences tethered headsets and systems require.
Even for those new to VR, the Quest's onboarding steps are intuitive, effective, and actually quite fun. Getting used to the controls, setting up your boundaries and navigating the virtual environment is quite enjoyable, which is just another added pro for this headset. For extra freedom in mobility, stunning immersive experiences, and an affordable price point, the Oculus Quest 2 is a fantastic pick for those wanting to upgrade and use the latest tech available.
A Note on Tethered headsets:
Oculus Rift and HTC Vive are two of the most loved headsets in the industry, and both deliver a fully immersive experience with ultra-high definition imagery. Being one of the more popular choices, they spark a lot of interest, and, used in the right environments with willing participants, can be an impressive draw. On the downside, the need to be tethered to a powerful PC on top of cost of the headset, making it an expensive undertaking and one that is limited in usage to tradeshows or in your office / boardroom. Our user testing has also demonstrated a greater issue with virtual reality sickness in tethered VR than mobile, likely due to the greater difference between reality and perception of motion. The incongruity between those are what cause most sensory conflicts and create the feeling of nausea.
Staying Ahead of the Technology
One more important consideration, we've watched the original genesis of VR come and go and it's clearly going to be a rapidly changing technology. We're specifically expecting some pretty significant churn in virtual reality headset hardware over the next 8-12 months. As a result, it's important to choose software that will support multiple devices and headsets. Working with a device-specific technology only to have it become obsolete as the market changes would leave designs unviewable, and your investment in assets wasted. At Yulio, we keep abreast of the VR landscape and changing technologies in viewer apps and headsets so that our clients don't have to - they're business isn't about VR trends, so we do that for them. Find a partner with the flexibility to be hardware agnostic, and the resources to be your lookout as VR presentations evolve in the industry.
---
Ready to dive in? Sign up for our Yulio 30-day free trial, where you can get full access to our platform and all our great enhancement features! Pair your headsets easily with our platform, and present to your clients - see how easy it is to get started with Yulio.