Over the last two years, many people saw a dramatic shift in how we went about our everyday lives. As we adjusted to changes in our personal lives, businesses had to figure out how to accommodate the new needs of people and provide their services safely and in new inventive ways. These shifts were happening in multiple service industries that were traditionally 'in-person' with clients, including interior design.

It was unquestionably a difficult time for many people and businesses, and these hard times continue for some. To minimize their risk, interior design firms and studios had to think outside the box and find new ways to do business and because of that, we have seen massive changes in businesses and infrastructure that we believe will continue long after we enter a "pandemic-free" world.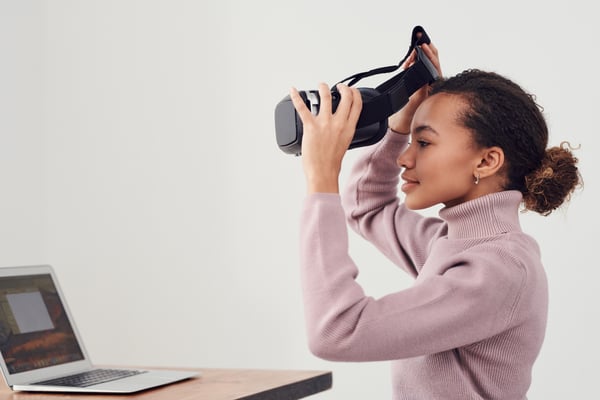 Back in 2018, we talked about the possible future of Virtual Reality for Interior Design and how some digital platforms were just starting to make an impact on the interior design industry, and how VR could play a large role in presenting design projects. At that time we discussed virtual platforms such as infinite/virtual showrooms and catalog applications. Virtual showrooms are in effect the closest thing to going to a retail showroom in a store. They offer a user a chance to put on a VR device to view a virtual store showroom. Instead of traveling, the process of buying a new couch can be done from the living room. Catalog apps have been around for some time, but many retailers are now adding augmented reality experiences to these applications, allowing users to place virtual products in their surroundings and get a sense of their dimensions.

At the time we spoke about how designers can and should take advantage of these platforms and VR tech to help show off their design ideas to clients and provide an enhanced understanding of how a design will look in its final form. We also spoke about how they can also take advantage of VR applications to showcase multiple ideas and products without asking clients to travel to multiple studios and showrooms.

Changes that are Here to Stay
When we were predicting the disruption VR might have on interior design, we certainly didn't know that there would be a massive shift and a newfound reliance on digital platforms to help facilitate and replace the usual business and sales processes at most organizations. Many interior design firms had to quickly and effectively implement these new digital tools such as virtual showrooms and catalog applications to help meet their client's needs and provide a remote experience.

One might think that with the pandemic just starting to recede there will be a mass return to "business as usual" and that many of these digital tools that became popular for designers during the pandemic era will be scrapped. However, as we've seen with many other businesses, many of these changes are here for the foreseeable future and that includes the changes in the interior design industry. And the reason being is that many consumers have found new conveniences and practicality with these new ways of business and prefer to use them rather than return to the old ways of business.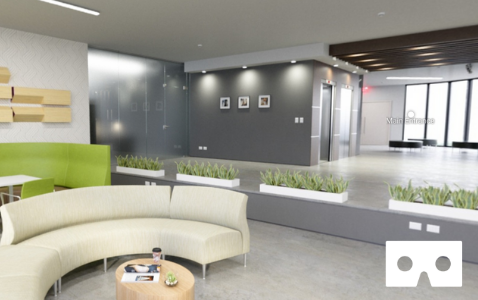 However, while there is a convenience for consumers, there are also plenty of benefits for designers to either continue using or start adopting these new digital tools, especially VR. Designers can rapidly show clients several iterations of a design or product, and even from multiple angles in a virtual reality showroom, something that could have taken a lot of time through a catalog, not to mention with VR clients can get a true sense of scale when viewing a product in VR or even AR.
Designers can reduce costs and time by providing accurate representations of their design projects with the use of VR. When sharing a design with clients, sometimes there can be a disconnect depending on how savvy a client is with design tools and specifications. VR is a clear way for designers to show off a design to clients that really shows what they have created in a 1:1 digital recreation. By doing this designers can also eliminate the surprise and extra costs that occur when a product or design is delivered/finished and isn't quite what their client expected.
Finally, designers can reduce time and costs even further by sharing/presenting VR projects remotely. Many of today's consumers have become quite accustomed to a work-from-home mentality. Designers can help meet their needs and reduce the time needed to ask them to commute to several studios or showrooms.

We are deep believers that the pandemic only sped up a process that was already well underway in this industry which is a greater desire from buyers to better see and understand how their newly designed spaces can look before committing to the purchase. As well many industries were already seeing an increase in the incorporation and reliance on digital/virtual solutions far before the beginning of the pandemic. We are living in more and more of a virtual world and it's up to businesses to start getting on board or fear getting lost in the momentum of digital progress/.

Yulio and Interior Design
At Yulio, we've recognized the benefits of virtual solutions and the importance of being able to accurately showcase your designs in presentations using VR that not only paints a clearer picture but also creates a memorable experience for the client, allowing them to step into a design and see it with their own eyes.
Try out one of our Yulio design projects here.
We've worked with many clients who say that the impact of being able to see a design in VR has always been the highlight of any presentation. They've often found a disconnect when showing designs in other ways as it is hard to translate dimensions in a non-3D environment. Virtual Reality helps bridge that gap. As well, incorporated presentation tools that let you see what a viewer is looking at are built into Yulio to help make it easier for one to present a VR presentation remotely.

If you're a part of an interior design firm and you're looking to find a way to move in a more digital direction and provide your clients with virtual and remote solutions. Now is the time to consider bringing this issue up with decision-makers at your organization and to become a champion of new technologies that can help you stay relevant and put you at the forefront of your industry.


---
To learn more about how VR can help make you and your firm at the forefront of the design industry, click here to continue reading our free online resource. For additional tools and questions to consider before investing in a VR viewing platform, check out our Whitepaper