Making sure your interior design firm stands out from the others can be tricky. Ensuring that your firm is keeping up with the progression of technology and trying to remain at the forefront of the industry is a good starting point in your efforts to differentiate yourself and make your clients feel that you offer something special. With new trends swirling around in the digital world such as NFTs, mixed reality tech, and of course the ever-present and topical "Metaverse", we believe it is important that businesses need to look at how they can make sure they don't fall behind. Having access to modern tools and software is critical, but only those tools which can be turned into practical business tools that drive ROI - not the latest trends.

One tool designers should consider in this brave new digital world is VR. VR has become extremely accessible in recent years and has been incorporated into business strategies everywhere, from education to architecture and design. Below we have five reasons why designers should be using virtual reality for interior design. If you've been wondering about exploring VR, it's time to get started.
Communicate Your Designs Clearly
Have you ever had a client say "I'm just not seeing it?" or maybe just smile and nod politely when you finish your presentation? There can sometimes be a bit of a gap when it comes to showing design plans to a client. Depending on the tools that you have, it's possible that they won't have much knowledge of how certain designs translate and it can be hard for them to imagine the scale of certain features/products and just what they will look like in person. When they can't understand your plans, they will have a harder time engaging with the design and signing off. VR on the other hand leaves very little to the imagination.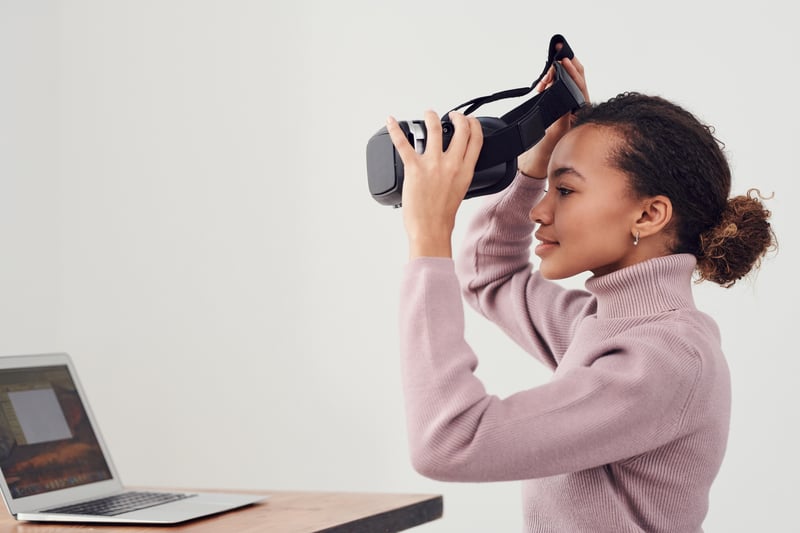 When someone puts on a VR headset and looks at your design in full virtual reality, it is a 1:1 recreation of your design and it's the next best thing to standing in a physical mockup. You can set up multiple viewpoints so they can see a design from any perspective or level and get a better understanding of how your design fits together.

It allows you to communicate clearer, as you can direct them through the design in VR and they can ask questions and make comments that they may not have had right away were they only looking at a 2D design.

We have found clients typically like to explore for a few minutes on their own, but ultimately still enjoy a guided experience. You'll get better feedback and have it in context - "I think that color is too bright" will be something you can evaluate together in a virtual room, and not from a paint chip.
Save Time and Costs
It can be a barrier when you've taken the time to source a product for a customer, have it shipped and assembled, and then when the client sees it in person it isn't quite what they imagined. It can cause friction between a firm, their clients, and suppliers causing your design team to go back to your design and have to make changes costing every party involved more time and money.

Having an opportunity to view a design in VR can help take the guesswork out of the equation and your client can get a better idea of the finished product before it is revealed. In the end, this can mean less time reworking and having to go back to make changes, delivering the product quicker and costing you and the client less.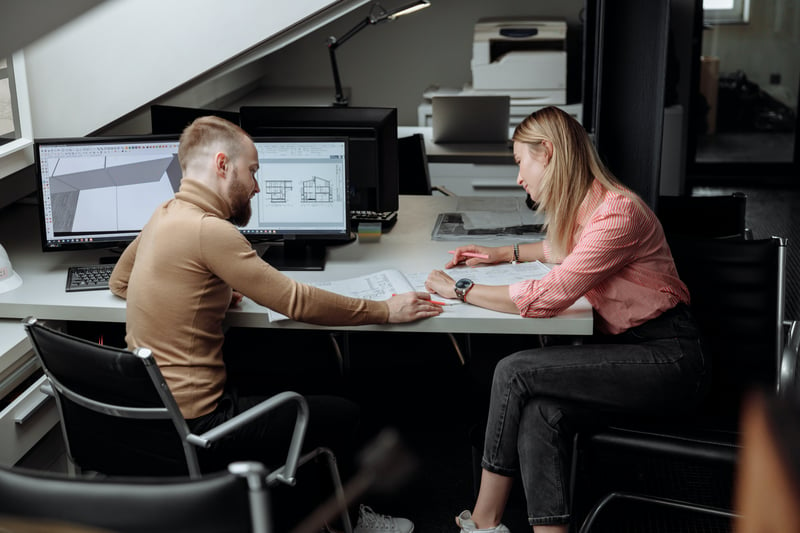 You may worry that adding VR to your business might be too large of an expense itself. However, that is not the case. There are many inexpensive ways for someone to access VR, oftentimes just requiring a phone and some sort of viewing accessory. There are even higher-end mobile experiences, that have become much more affordable in recent years.
Make a Bigger Impact with your Clients
VR has entered the mainstream, but there are still many people who have yet to experience it in a professional setting. By offering a VR experience to your clients you have the chance to show them that your firm has modern resources and is working to stay ahead of the rest of the industry.

We have another post on this blog that goes over how a small design firm can compete with larger firms by offering up resources such as VR. You can show that you are confident in your designs and create a memorable moment for a client when they get a chance to view their design virtually.

Fit into Today's Hybrid Approach to Business
It's not news that over the past two years or so there was a massive shift in how people work, no matter what industry they work in. Remote work has forced many companies to find digital solutions to major aspects of their businesses that had never needed it until then. However, as we start to return to a sense of normalcy, it's become clear that many of these changes are here to stay.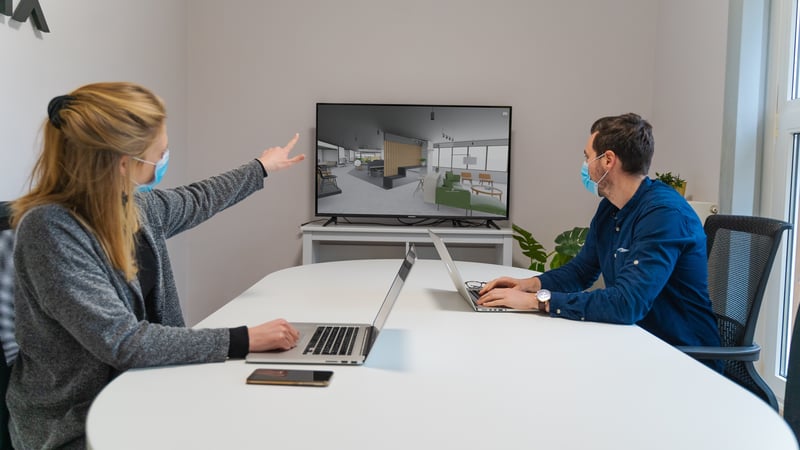 Many of the digital solutions that we've seen have one major point in common that is keeping them around: convenience. For example, telehealth saw a major rise during the pandemic. Doctor's offices had to close except for priority in-person visits. Visits that were just questions, or consultations switched to being done over the phone. People preferred this as it lessened wait times and allowed for quick responses to their medical inquiries. As well, many pharmacies and organizations quickly developed websites and apps to help connect people to medical professionals digitally for mental health resources or consultations and these continue to be popular to this day. All this to say that, people these days are less likely to travel for a meeting.

Yulio is a VR application that allows you to send and share VR designs with clients remotely with ease. You can simply text a link to their phone or even embed the project on a webpage. You can offer the convenience your client might be craving and show your willingness to adapt to the new work habits of today while saving them the time and cost it could take for them to commute to your studio or office.


---
To learn more about how VR can help make you and your firm at the forefront of the design industry, click here to continue reading our free online resource. For additional tools and questions to consider before investing in a VR viewing platform, check out our Whitepaper