We're excited to announce our latest feature - Client Galleries - is available now to all Yulio users! Starting today, curate unlimited* personalized galleries for each of your clients and share your projects in a simple and seamless way.
While you can still share your Yulio VR experiences on your social channels, by texting the link to your clients as well as copy and pasting your project's unique URL, we wanted to further build out our platform to equip our users better. Client Galleries was designed to be the simplest and most optimal way for Yulio users to store and share their projects with their clients. By setting up an exclusive gallery for their client, users can make it much easier for their client to access all projects related to their project.
As with all of our features, the best part of Client Galleries is how versatile this tool can be. There are a variety of ways you can use Client Galleries and users can utilize this feature to best fit their needs. For product showcase-focused businesses, you can use Client Galleries to house a number of virtual showrooms you may have already built out. This can be especially useful for users who have created VR showrooms for each of their product lines. You can consolidate your digital catalogs to one Client Gallery and send it to your clients in one virtual package. However, if you're in the architecture and design industry, you can utilize Client Gallery to showcase a range of design options and configurations. And because they can access it all in one place, your clients can explore your virtual spaces quickly and easily.
There are a number of steps you will need to follow to create your Client Gallery, and you can access the full step-by-step tutorial in this Knowledge Base article. But let's get into how you can start using this feature.
Setting Up Client Gallery:
Begin by logging into your Yulio account. Once logged in, click on the Resources menu from your top navigation bar and then select Client Galleries.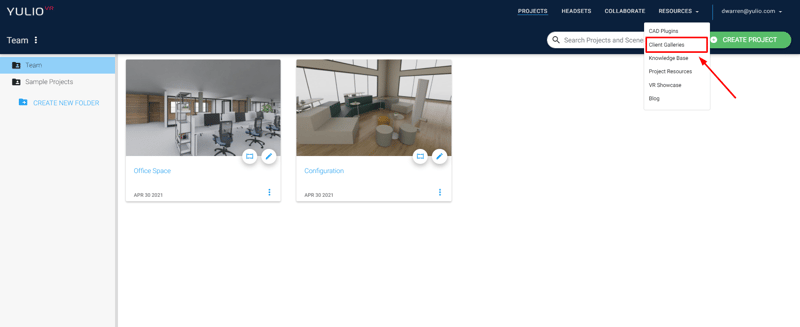 After selecting Create a Gallery, enter in your clients information and add up to 10 of your Yulio projects from your account to your new Client Gallery. Don't worry, the email invitation won't be sent to your clients until after you have hit the final button of Save & Send Invitation.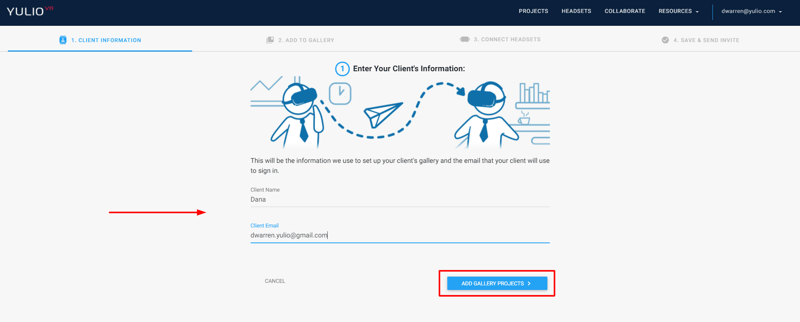 Please note that you must have an open seat in your account to create a new Client Gallery. If you do not have an open seat, you will see a pop up message that will guide you on how to purchase another Yulio seat.
The next step will prompt you to connect a VR headset to the gallery. If you're going to send a VR headset to your client, you can help connect the device for them. However if they have their own VR headset, they can also connect it themselves later on.
By connecting a headset to your Client Gallery, you will be able to automatically send gallery projects directly to your client's headset.


And finally, take the time to review your Client Gallery details before sending your invitation. Here you can review how many projects are in the gallery, the client name, email address and preview the invitation that will be sent. When you're ready, hit Save & Send Invitation.



And that's it! Once your client accepts the email invitation, they will have instant access to all projects you loaded into their Gallery.
Here's just a sample of the email your clients will receive: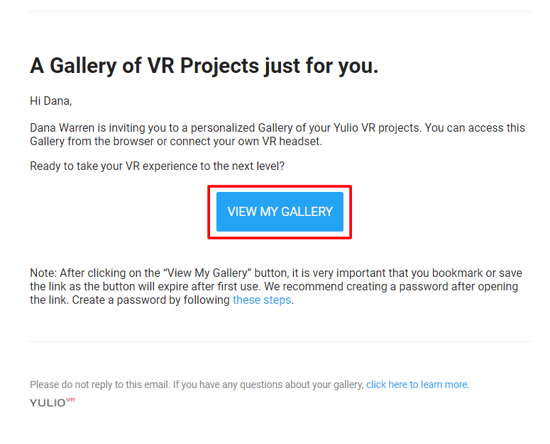 Plus you can go back at any time to add or remove projects, update client details or to connect VR devices. We also recommend creating a password after opening the link - you can follow this guide to learn how to do it.
---
We hope you're excited for this feature! Remember to ensure you have enough Yulio seats when creating separate galleries for your clients.
For more details on Client Gallery, please head over to our Knowledge Base for step-by-step tutorials on all our features. To see our Yulio platform in action or to create a custom plan that will fit your business needs, call us at +1 (416) 499 2227 or email us anytime at hello@yulio.com.
*number of Client Galleries dependant on number of Yulio seats