With the end of February fast approaching, many of us are gearing up for yet another year of virtual trade shows and conferences. At the beginning of this month, we shared our tried and true top tips on how you can best introduce virtual reality to those attending your webinar session and presentations. And last week, we explored the benefits of using VR in trade shows as well as 4 ways you could use the technology to build better engagement and simply "wow" your audience. In today's post, we'll be taking you through how you can utilize features on our Yulio VR platform to share important information with your audience and further enhance your VR experience.
Let's get started.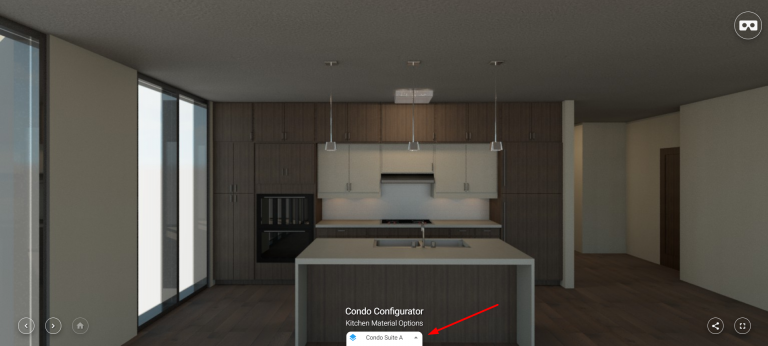 Scene Options
Scene Options is a feature that allows you to show off alternatives to material, color and configuration in a sleek and minimal way. Here at Yulio, we understand the importance of having the ability, flexibility, as well as necessary tools to highlight your collection and/or space in its entirety. And oftentimes, it is the wide array of colors, finishes, fabrics, configurations and other alternatives you offer that can often nudge your clients closer to closing the sale.
Scene Options are a great feature for both VR experiences you're sharing live in a presentation or a link in a follow-up email. To use this feature, all you have to do is upload your scenes, group them together, and your scenes will live in a small tab at the bottom of your VR scene. We designed this feature in this way to not only lessen distractions in your VR project but mainly to give you a way to share your story while remaining immersed in VR without flipping to and from catalogs and 2D renders.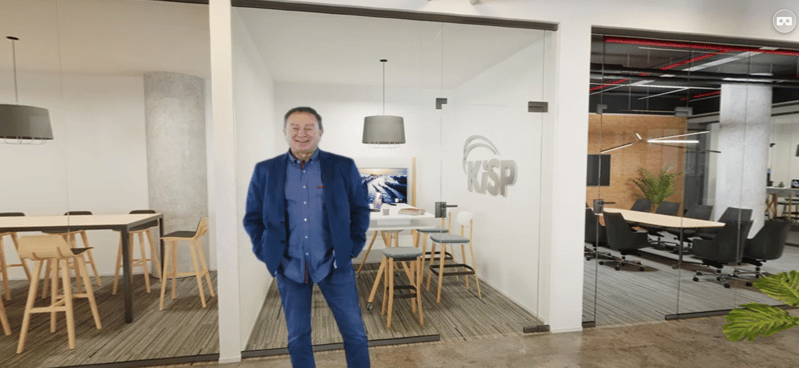 Use Video Hotspots to welcome your audience to your VR project and use the time to introduce yourself.
Video Hotspots
These hotspots are the latest addition to our library of hotspots and were perhaps one of the most requested features for good reason. Videos are a fantastic piece of media that is both eye-catching yet can share your story effectively. While static images and 2D renders are still valuable and provide greater context about your space and products, the lack of engaging visual storytelling and flexibility to view from all angles can cause rifts in a client's understanding of your project.
Video hotspots allow you to add your videos into your scenes and view them directly in your VR projects. You can use them to show off your products, any special promotions, or dive deeper into design details in your projects. However, when it comes to creating your immersive experience and building your virtual trade show project, you can introduce your business, its values and your team of designers with the video hotspot. While it may be brief, this small gesture can make a world of a difference by building rapport with your audience and ensuring your name stays fresh in their memories.
Top Tip
Use our latest hotspot alignment grid to make sure your hotspots are placed just where you want them to be. To learn more about the feature, click here.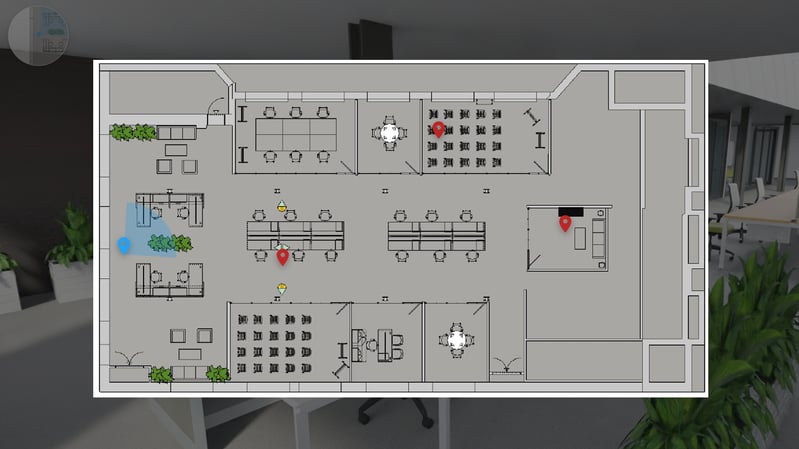 Floorplan Navigation
This is an essential feature when navigating large and complex spaces. As the name suggests, our floorplan navigation feature allows you to upload your floorplan and link your scenes to the appropriate spot. With this 2D "dollhouse view", your audience will be able to move seamlessly throughout your project, providing much-needed context and flow as well as organize all of your scenes into an easy-to-view sheet.
Especially if you plan on building a virtual showroom for an upcoming trade show, having a floorplan navigation option gives your audience an overview of how the elements all fit together, helping you tell your design story better. This flexibility allows your audience to jump from one area to another, saving your attendees from scrolling through each hotspot to get from point A to B. Floorplan navigation provides a simple way to let your audience explore your whole VR project by giving them greater agency to jump into an area that has caught their interest.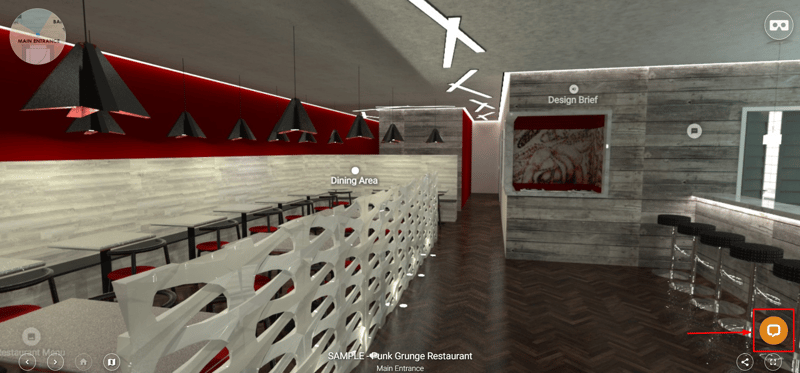 LiveChat
Our LiveChat Yulio integration is one of our latest additions to our platform. Fostering greater interaction, especially during the height of our global lockdown, with VR project visitors was one need we saw from our users, which led us into welcoming LiveChat onto our Yulio platform. If you haven't heard of LiveChat before, this software provides a service aiming to give businesses a way to actively assist and communicate with prospects and clients with the power of instant messaging.
This tool would be fantastic for virtual trade shows as it gives attendees a point of engagement, presenting a chance to interact further with both your project and your business. Say an attendee has a question about a certain design choice, an area of your project or would like to learn more about a product. Viewers of your experience can now chat directly with your team or agents through your LiveChat account. Plus, the best part about this feature is that your team will receive a notification any time there is a new chat coming in, ensuring your team will never miss an opportunity to connect with your audience.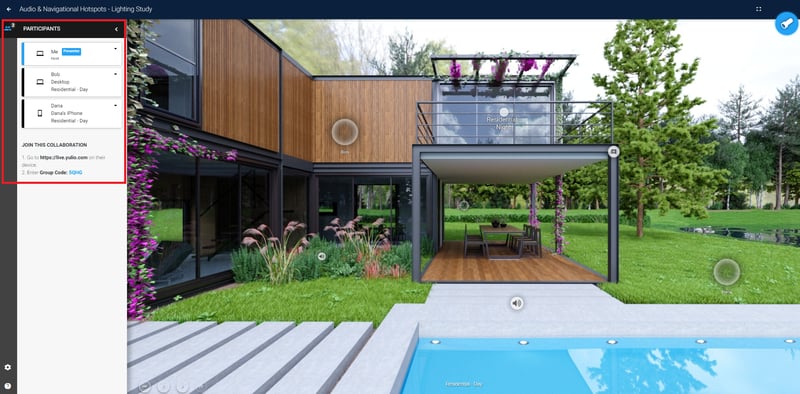 Collaborate
And finally, you will need Collaborate. Collaborate is our most popular presentation feature, giving our users and their clients the ability to experience the same VR project at the same time regardless of location. While one of the most powerful aspects of Collaborate is the ability to see exactly what an attendee is focused on, it's also worth noting that this presentation platform has no participant limit, meaning you can invite as many people onto your Collaborate session at one time. Our Client Success Manager has previously hosted a Collaborate session with over 200+ attendees, making the feature perfect for events, conferences, and your next virtual trade show.
Whether you're manning a virtual booth or participating in a panel chat, you can start a Collaborate session and invite your audience to interact with your design or products. Once in the Collaborate session, your audience can look up, down, and all-around your experience and explore your project on their own. And as the presenter, you can explore your own project through your audience's eyes. Note parts of your design they spend a little more time observing, the products that they seem most interested in, these are all important data points to better understand what stood out most to your audience. While it can be helpful to see what parts were most successful versus the others, including this interactive element in your next trade show presentation or talk will make their experience with you much more memorable and overall enjoyable.
---
We hope that this overview was able to guide you in building your virtual trade show experience. For our full step-by-step tutorials on all our features, head over to our Knowledge Base. To learn how you can utilize our Yulio platform further for your next trade show, contact our team - we would love to chat with you.