Perhaps you can relate to this scenario.
In the past week, you were able to render another iteration for a project, added in a variety of text and image hotspots, and spent the time getting the placement just right. However, after presenting it to your team or client, they give feedback that would result in needing to change the scene, thus needing to redo all of your hotspots.
This scenario is definitely one point of friction that both our team at Yulio and our clients constantly faced. Not only was it incredibly inconvenient and frustrating, but it was also valuable time wasted needing to redo the work. On this week's [Training Taco Tuesday], we'll be showing you how you can use the solution we created to this problem.
Replace is a feature located in the main project page where you can edit, name, and rearrange your scenes.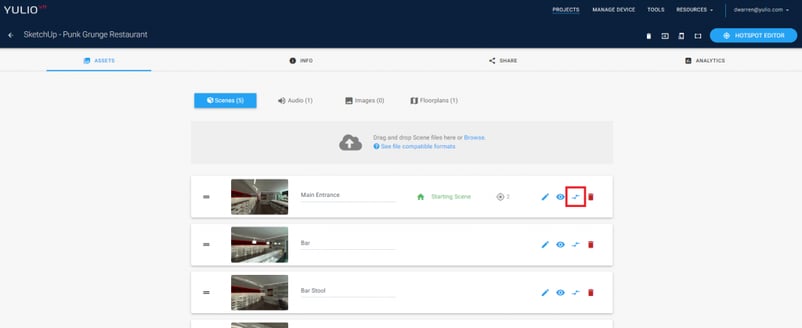 A client's request can be ever-evolving, especially when it comes to adapting to new normals and trends. At any moment, they can request to see a different configuration, colour or finish. For those instances where you wish to retain the setup of your hotspots but need to replace one of the scenes, now you can easily do that by clicking on the Replace icon.
With Replace, you have a few options of what you would like to keep from your original scene to be transferred to your new scene: Keep Hotspots, Keep Scene Name, and Keep Analytic Data. Simply check the boxes if you want to keep the information or un-check it to get rid of it.

One Important Note: the last step before your scene is replaced is to click "Confirm". However, once you update the scene, the action cannot be undone, so double check to make sure you are uploading the correct scene.
And that's it!
Especially for larger VR projects like exhibitions and tradeshows, no longer will you need to start from square one because of one small change your team would like to make. With just a few quick clicks, replace your scene with the most current up to date version of your project.
---
For step-by-step instructions on how to replace a VR scene in your Yulio project, check out our Knowledge Base. If you would like to chat with our team further about Enhanced Materials Tags or would like to learn more about Yulio in general, book a demo with our team today - we would love to chat with you.