In any pitch or presentation, being able to identify clearly the key features, design elements, or products in your project is a crucial element in winning bids and communicating with your clients. Regardless of the platform you use, whether it's PowerPoint or Virtual Reality, highlighting the most defining parts of your project is what will help you stand apart from your competitors.
We understand the importance of giving your clients the flexibility to explore your project for themselves, communicating value, and having the tools to do so seamlessly. Which is why on this [Training Taco Tuesday], we'll be sharing a technique you can use in your next client meeting when launching a Collaborate session.
Spotlight, or also known as Spotlighting, is one way a presenter can bring their client's attention to a certain area or particular object while hosting a Collaborate session. For users unfamiliar with navigating our Collaborate feature, there are two modes to choose from -
Explore Mode: This feature auto-pans throughout a scene and gives all participants full agency to roam and explore your project on their own, at their own pace.
Present Mode: The Present presentation mode makes all participants follow your gaze or where you will scroll to in a project. This specifically gives the presenter full control over what all participants will see in their headset or desktop.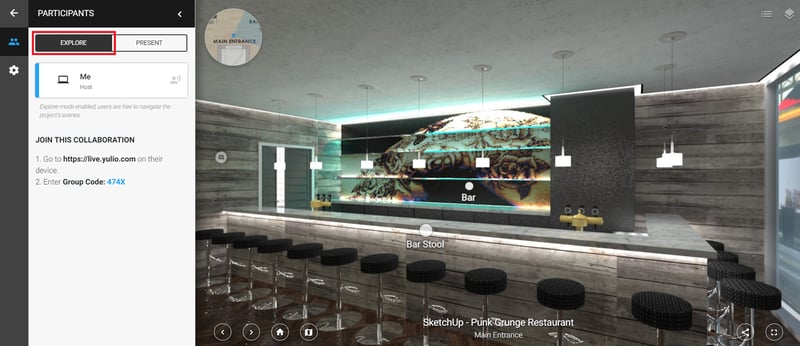 While you can certainly point out parts of your presentation while in Present Mode, spotlighting while using Explore Mode gives your clients the flexibility to get acquainted with your project for themselves yet is a simple and quick way to gather everyone's focus for what you would like to highlight next.
Firstly, make sure to give a small introduction to explain the free-roaming period before switching over to Explore Mode. We have heard from our users that giving a brief heads up helps prepare and orient their clients before the auto-pan begins, especially those experiencing your project in the headset.
When in Explore Mode, give your clients a good 3-5 minutes to look up, down, and all around to fully experience your project and to also record any notes or questions they may have.
Tip from Yulio Users: Make sure to prepare a rough schedule/itinerary to help you keep track on time and have a list of which items you would like to highlight. This keeps the meeting moving, making for a smoother and more professional presentation.
After letting your clients explore your project, center the part of your project or a product you'd like to highlight. Remember to enable the Crosshair toggle located in your Settings to make sure what you would like to spotlight is at the focal point of your gaze.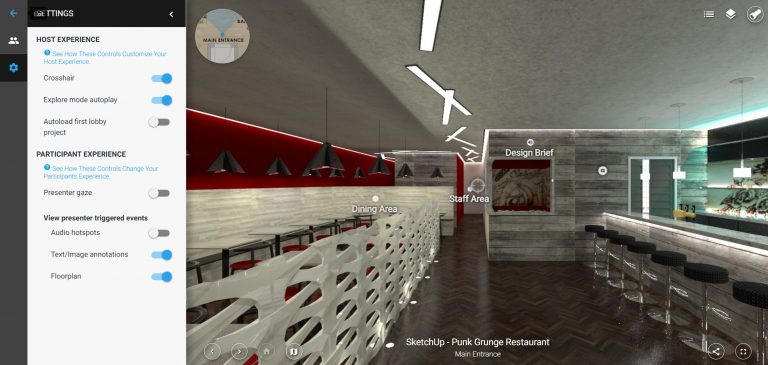 And when you're prepped and ready to spotlight, give your clients another heads up and click on Present to switch back to your full presenter controls.
This spotlighting technique is a great way to give your clients the opportunity and flexibility to explore your project fully but can seamlessly transition to highlight details or a product that would be of interest to them.
As with every presentation, it's important to practice and get familiar with this transition for its maximum effect during your meeting. So be sure to practice with someone on your team to ensure your spotlight is as smooth as possible.
---
For step-by-step instructions on using Explore Mode and Present Mode, check out our Knowledge Base. If you're interested in our Yulio platform and would like to try it out for yourself, click here to sign up for our free 30-day trial.