From the beginning, our team at Yulio has built our platform from the ground up with one goal in mind: to be the best VR platform for stunning immersive presentations. From our line of hotspots to Collaborate, our most used Yulio feature, we have created an array of tools to help our users tell their visual stories in a simple yet impactful way.
Starting today, we'll be launching a brand new Training Tuesday series where we'll be creating a space to learn top tips and insights from our team and fellow Yulio users who have become experts in navigating our features and platform.
To kick it off, we'll be highlighting a feature that we added about a year ago - Scene Options.
Intro to Scene Options
When it comes to presenting and pitching to clients, it's always better to be able to showcase a variety of options rather than asking them to "picture this". Leaving what your product or space could look like to your client's imagination can cause misunderstandings and miscommunication, which could cost you a bid or cause slight delays in completing a project.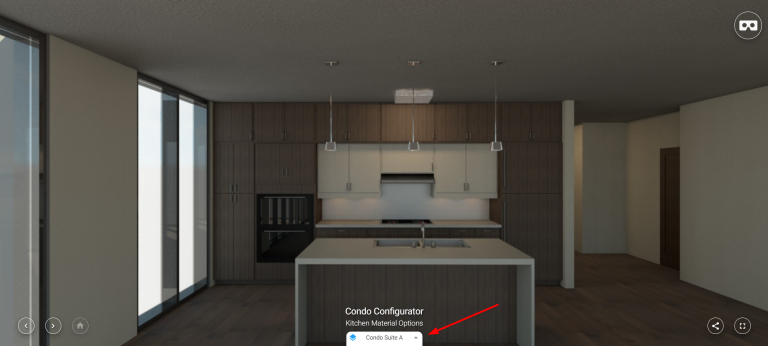 We created Scene Options as a solution for our users to showcase their full selection of products in a professional and organized manner. Stored in a tab at the bottom of your project, Scene Options gives you the opportunity to pull up and showcase alternative solutions to your clients.
Here are a few ideas to help you get inspired for using Scene Options:
Present Different Colours and Finishes
Scene Options operates much like a virtual catalog. Your physical catalogs will list what colours and finishes are available for a certain product, however with Scene Options, you can now show your clients the various solutions. Especially when presenting these solutions in VR, your clients can now see with their own eyes what a certain finish with a colour will look like. And since seeing is believing, your clients are able to make quicker and more informed decisions.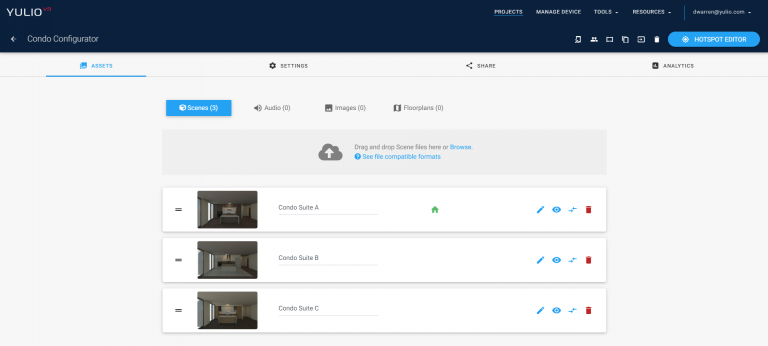 Showcase Flexibility in Configurations
When it comes to designing or redesigning a space, the more configuration options you have, the better. With taking into account space planning and getting the general aesthetics right, Scene Options can help show alternatives to the arrangement of a given space or area. Like with redesigning an office space, you can store an unlimited amount of desk, chair, and storage configurations. Not only does this demonstrate to your clients that you have come fully prepared, but it will also help you understand more clearly their vision for their space.
Organizing Iterations
As with every project, edits and changes is an inevitable process, and some of our clients have used Scene Options as a way to track the project's progression. Being able to refer back to the previous iterations and click back to the most recent version can be helpful for clients to understand the new changes.
---
For step-by-step instructions on using Scene Options, check out our Knowledge Base article. If you're interested in our Yulio platform and would like to try it out for yourself, click here to sign up for our free 30-day trial.