We talk with architects, designers, construction planners, BIM executives and many more, every day who know VR is going to be disruptive to their industry. But they are sometimes uncertain about whether VR is more than a tech novelty - they want to know how to spot a trend vs. a fad. That makes sense to us! If businesses are going to invest in implementing VR, or the wider category of digital reality they want to know if it's a passing fad, or if it's here for good. And how to get the best ROI from it. We definitely think that digital reality is here to stay.
The first thing to understand about the VR market is the significant difference between consumer and business markets. The less than juggernaut sales of headsets for consumers led some analysts to call VR a disappointment. But there is a difference in personal investment for things like gaming and entertainment, vs business needs for designers to communicate their vision where the costs are amortized over many users, and the potential to win business.
Digital Reality?
Digital reality is a term that IDC has coined, and is meant to be used as an umbrella term that virtual reality (VR), augmented reality (AR), mixed reality (MR) (a mixture of augmented and virtual reality) 360 degree, and immersive technologies can all fall under. It's a recognition that new immersive visual technologies all have different uses, and the specific mechanics aren't important in the larger trend of Digital Reality. A lot of people anticipate mixed reality being the big winner in the space because it makes use of physical and virtual space to create captivating scenes for any industry-use, but for now, VR and AR are the primary focus in the market. We anticipate those labels falling away as we adopt a larger view of Digital Reality, with the different categories becoming tools in the toolbox with different strengths.
What's the Market Like?
Goldman Sachs released a Profile of Innovation surrounding virtual and augmented reality, and it describes the tech as "hav[ing] the potential to become the next big computing platform", comparing the rise of investment and market disruption of digital reality as similar to when the PC and smartphone were released.
The report notes that, "[they] believe that VR/AR has the potential to spawn a multi-billion dollar industry, and possibly be as game-changing as the advent of the PC", and that, "[they] see qualities in VR/AR technology that can take this from niche use cases to a device as ubiquitous as the smartphone" - Pretty powerful statements, if you ask me.
In 2016, the VR software and hardware market size worldwide reached 3.7 million, and 6.4 million in 2017 - now in 2018, it's estimated to reach 12.1 million. The market trend forecast predicts that it will continue to double until 2020, which is similar to the original rise of the PC, but it'll take a bit more time to get there. Think about the quality of video games - we've moved from what used to be expensive games that were very pixelated and with significant lag time, to insanely fast and photo-realistic image quality, and reduced costs that consumers are willing to pay to play. There are certainly parallels where VR/AR consumers may find that there isn't enough high-quality content to justify the expense for individuals, but that is poised to change in the coming months. And in the meantime, businesses are finding that their ability to amortize those costs over marketing campaigns make the technology more viable for them than the average consumer.
We can expect some pretty big innovations being released in the next couple of years - Goldman Sachs predicts that the market should reach $80 billion by 2025.
There will be integrations into current technology that will allow for VR/AR capabilities, as well as standalone devices similar to the Daydream Standalone VR headsets, which are targeted to begin shipping spring of this year. This VR headset doesn't require a phone, PC or cables, which makes it the first of its kind in terms of mobile digital reality power.
Another barrier for consumer VR/AR right now is that there isn't much content, but in the future, there are huge indicators for the amount of content that will be widely available, which will make digital reality much more attractive and useful for consumers.
Next, Goldman Sachs provided a by-industry breakdown of the market for the forecasted 2025 market prediction, showing the various levels of use for 9 different industries.
Here, you can see the division of the digital reality market software-use into 9 industries:
Video games ($11.6B)
Healthcare ($5.1B)
Engineering ($4.7B)
Live events ($4.1B)
Video entertainment ($3.2B)
Real estate ($2.6B)
Retail ($1.6B)
Military ($1.4B)
Education ($0.7B)
With real estate, engineering, and entertainment being the large industries at-play with digital reality technology at the moment, we can see that there's still a lot of potential for the medium that hasn't been discovered just yet.
Who are the Major Players Investing in Digital Reality?
Companies wouldn't be all in unless they saw something with the potential to stay a long time. You know something is here to stay when the largest consumer tech companies in the world are investing heavily in it. Let's take a look at some of the major technology moguls, and what they've been up to involving digital reality:
Google
They had already released their augmented reality glasses, called 'Google Glass', back in 2012, but unfortunately, it didn't take off quite as expected. The idea was revolutionary, and I'm sure it'll come back with a vengeance, but at the time, it wasn't something that consumers could justify needing, and felt alien and cumbersome.
Since then, Google has invested $542 million dollars in 2014 to kick-off the 'Magic Leap', one of the first-to-market mixed reality headsets. Google also pioneered the Cardboard, an inexpensive VR headset that really democratized access to digital reality. When Google moves to get something into the hands of tens of thousands of customers, you can anticipate they are looking to make a major play in providing content services.
Sony
In 2014, Sony launched 'Project Morpheus', later renamed to be the PlayStation VR. In 2017, they shipped 429,000 PSVR's in their first quarter, giving the company a 21.5% market share, and sold a total of 700,000 PS4 consoles, so the potential for their VR segment to grow is very much a possibility… and being the most affordable tethered VR option in the market right now definitely gives them a leg-up on their competition
HP
In 2014, they bought Aurasma 3.0, an augmented reality application which they acquired through autonomy.
Facebook
Famous for buying Oculus in 2014 for $2 billion, Facebook CEO Mark Zuckerberg said at a conference in 2017 that he is setting a goal of getting 1 billion people using VR, which is about 13% of the world's population - that target number of VR users is estimated to be reached by 2020.
They've also recently shared that the Facebook platform now supports gITF2.0 file format, allowing for textures, lighting and realistic rendering through posts. Brands such as Clash of Clans, LEGO, Jurassic Park, and Wayfair are already ramping themselves up to use this feature to their advantage.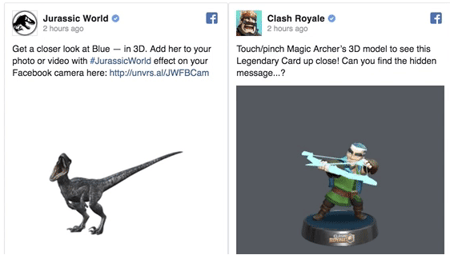 Another exciting possibility for the platform is their use as VR social spaces for friends to interact and play games. Check out the live demo of the feature here!
Samsung
In 2014, Samsung revealed (in partnership with Oculus) their Samsung Gear VR, one of the most popular mobile VR headsets to hit the market. Selling almost 5 million headsets in 2017, they're expecting to more than double their in 2018 to 10 million units shipped!
In 2017, they also acquired a company called VRB, who specialize in VR content creation, PLUS unveiled their 360-degree camera, which is one of the big content drivers for VR. We expect to see more developments from Samsung as the VR market grows.
Intel
In 2015, Intel had invested over $60 million in 15 VR/AR startup companies, raising to be $566 million by the end of 2017. Also, in September of 2017, Intel announced that they've invested over $1 billion in AI companies so we can prepare ourselves to witness some pretty cool technology coming from them sometime in the future.
Apple
Reportedly acquired Metaio, an AR software maker, and are now beginning to launch their platform, ARKit, which is an integration piece for apps that allow for augmented reality to best perform on their hardware.
Apple also got onboard with the same kind of software that made Snapchat so popular -They've acquired Faceshift, a facial recognition and animation company. Check out their ad here!
Disney
Led $65 million to be funded towards a VR content creating a startup called Jaunt.
Microsoft
Bought a company called Havok, which is a 3D physics engine used for video games.
Comcast and Time Warner
Participated in $30.5 million funding for NextVR, which captures live events in VR.
These companies are, as they say, "all in" on digital reality - which means that some huge developments are in the making, and coming to consumer shelves sooner than you think.
With this much activity in the market, do you still think that digital reality is just hype? We think not - we think digital reality is here to stay.
To learn more about how VR can enhance your business workflow, sign up for our FREE 5-day email course - or try VR on-for-size by signing up for a free Yulio account!