We are so excited to share that one of our most highly requested features is now available on all Pro, Pro+Jump and Enterprise licenses! Yulio's Download Scene feature allows you to download individual scenes from any VR project in your Yulio account to your computer or device. Whether you rendered your scenes through a CAD program or with Yulio Jump, our cloud-based rendering platform, this feature will be available for all scenes regardless of how they were created.
We value listening to our users and any feedback they have in helping us make Yulio the best VR presentation tool on the market. So, as part of our continual commitment to removing points of friction in creating stunning VR presentations, we've made it easier than ever editing and changing scenes in your project.
If there are a few scenes in a project where the angle is a little off or you would like to send it back to your design team for some further enhancements, our Download Scene feature is here to help. What you can do is download your individual scenes, edit it to your liking, and re-upload it for further review. The biggest benefit to this brand new feature is that it gives you greater control by allowing you to easily change smaller elements of a project rather than needing to start all over again to accommodate minute changes. Now, you are able to edit your projects without having to re-do your hotspots and other Yulio project features.
How to Download a Scene:

To begin, log into your Yulio account.
From there, navigate to the Projects page and select the VR Project you would like to Download a Scene from.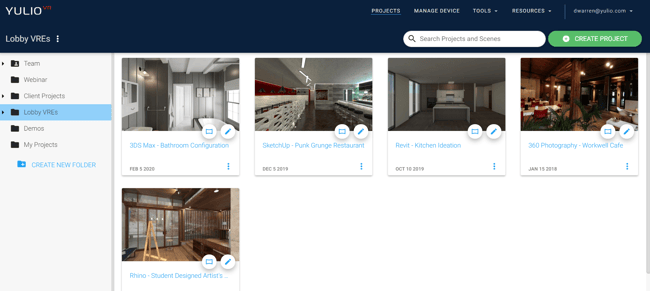 On the Edit VR Project page, click the Download icon next to the scene you would like to download. You must download one scene at a time.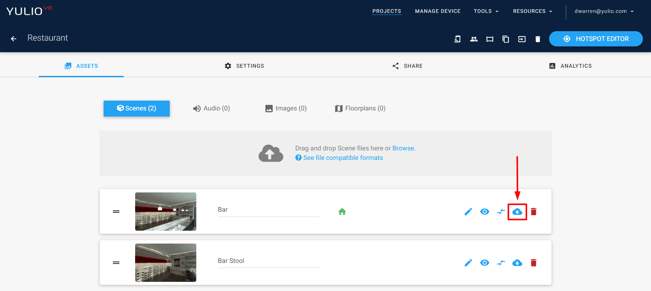 Your scene will begin downloading to your computer/device. The file downloaded will be the original source file, so don't worry about losing quality.
And that's it!
We're excited to bring you this often requested feature - it will make creating stunning VR projects faster and easier than ever. We can't wait to see what you'll create.
---
Download Scene is now available on Pro, Pro + Jump and Enterprise plans.
For more details on how to use Download Scene, please head over to our Knowledge Base for step-by-step tutorials on all our features. To see our Yulio platform in action or to create a custom plan that will fit your business needs, call us at 1-844-310-3429 or email us anytime at hello@yulio.com.