One of the hardest and most frequent questions that your interior design firm (or any business) will need to ask is:
How can I attract new clients to my business?
Sometimes, this question can be really difficult to answer, especially when you're working with a project-to-project model. And while it may be tempting to knock on every door to sell your business, we need to acknowledge that finding new clients, and selling your business to them, is a whole different ball game.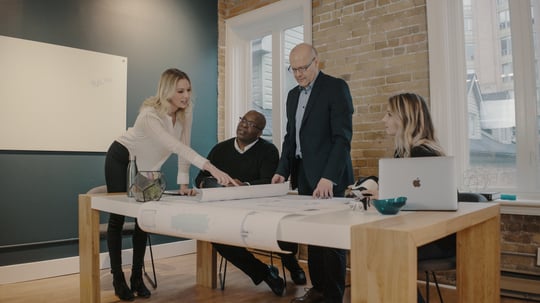 Getting new clients for your interior design business requires your firm to stand out from the rest of the competition.
The fact of the matter is that every client has different needs. This means that your firm will need to constantly change your narrative to address your client's needs while still impressing them with your capabilities. However, before you can answer the larger overarching question, you must first ask:
What is distinct about your interior design firm that distinguishes you from the rest of your competitors?
This may also be a difficult question to answer, but this is crucial to identify before you move onto answering the larger question. In the past few years, numerous AEC businesses have started incorporating Virtual Reality (VR) into their workflow as a way of distinguishing their services from their competitors. The beauty of VR is that it has a flexible range of practical applications, catering to your firm's specific needs.
Now, you may be quite skeptical about how exactly VR could help you win clients to your business. Let's explore how exactly VR can attract and win business for your firm.
Provide an Added Experience
One challenge that a number of smaller interior design firms face is the constant need for showcase-ready renderings. The fact of the matter is that your firm's main focus could be solely to secure and complete as many projects possible. However, with this focus, it's very easy to run out of content to draw new clients in. Especially when working with a smaller design team, your firm may just not have the manpower to churn out extra content to attract prospects. Plus, with the majority of firms still relying on traditional methods to showcase their skills, without something extra, how does your smaller firm stand up to the rest?
There is a lot to consider, and it can be really overwhelming trying to find a solution that would both fit seamlessly into your workflow and bring new leads in. So, instead of overloading your designers with extra work, providing a VR experience could be the solution for your firm.

Immersing in a VR experience allows them to virtually step into your design, giving that extra "wow" factor
To begin using VR to draw in new clients, we recommend incorporating your own immersive experiences onto your various digital platforms. Whether you want to make your website banner more eye-catching or enhance the content you're sharing on social media, providing a VR experience sparks curiosity and interest from potential clients. Plus, using the digital sphere allows you to take full advantage of the wide reach online networks have, connecting you to a wider audience of people that are looking for your firm's services.
Future-Proof your Brand
As with any business, building a brand that stands the test of time and continues to be relevant is difficult and requires a lot of forward-thinking. Companies rise and fall with the ever-changing tastes of consumers, and it has become necessary for businesses wanting to stay afloat to pay attention to what continues to pique their interest.
Currently, the majority of interior design firms still rely on the traditional method of showcasing their product with a 2-dimensional rendered image. While this method has become the go-to tried-and-true way of presenting your work, staying within this comfort zone does not allow your firm to shine amongst your competitors. No firm ever wants to be associated with being stuck in the past or "old fashioned".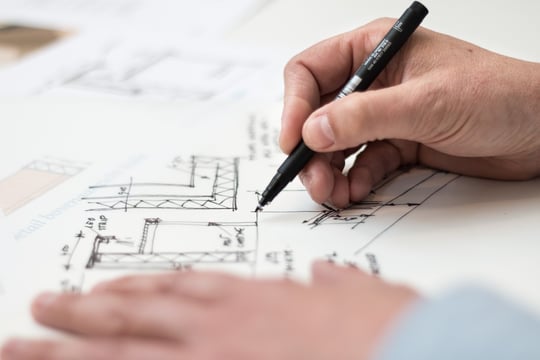 Every interior design firm has showcased their skills with either a floor plan or a rendered image, however, this method can be improved upon with VR
Whether your firm is large or small, incorporating the latest in technology is vital in the process of getting more clients for your interior design business. Not only does this appeal to a wider audience, but it affirms your company's values of seeking ways to improve your client's design journey. Consumers can become easily disinterested and scroll past your business if there isn't any definitive difference between your firm and its competitors. By sharing how exactly this tool can be instrumental in providing the best design experience possible, your firm has the opportunity to stand out through revamping the client's journey with innovation. Being able to look ahead and to incorporate the latest in technology will help your firm to build upon its reputation and solidify its place in the future.
Without Breaking the Bank
One of the most common questions surrounding business-ready VR is if the technology is truly transformational, why hasn't it taken over the commercial design industry? This is a valid question, and the simple answer is that the majority of businesses interested in VR for interior design assume the technology will be a heavy investment.
When thinking of VR, do you picture a heavy helmet sitting on top of your head with multiple cables coming out of the back? Perhaps you may picture the whopping price tag of $4,000 to get started. If those images sound familiar to you, we are happy to share that VR has become more accessible in mobility and price than ever before.
Mobile VR is the next frontier of business-ready VR, giving your firm the added convenience to bring your designs to your clients without breaking the bank. If you currently have a smartphone resting right next to you, that device is the bulk of what you need to start using mobile VR. Plus, you can find a decent pair of VR goggles for as low as $20USD. However, if your firm is ready to invest in a more advanced piece of mobile VR hardware, the Oculus Go and Quest are currently the latest pieces of VR hardware currently at the starting price of $199.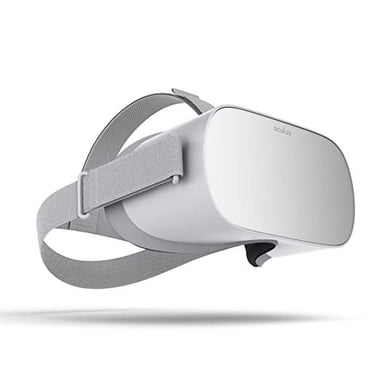 With the advancement in VR technology, any firm of any size can enjoy and benefit from integrating VR into their workflow
Previously, the only VR headsets available were tethered and required a high-performance PC to support the hardware. The projected cost of both the headset and the computer can easily set your firm back $3,000 - a staggering difference compared to the $199 price point. With the continual advancement of VR hardware, any firm can now incorporate this piece of immersive technology to enhance their business.
Step Into a New Reality
At the end of the day, VR is a tool that can help your firm attract a wider audience by impressing them with the latest in technology. Plus, with its current price point, the cost is no longer a barrier for numerous firms to adopt VR into their workflow. With harnessing this technology, begin to win over more clients to your business and experience the power of using VR.
---
Here at Yulio, we strive for excellence in performance and integrity when it comes to our product, and customer service. To see how exactly VR can transform your small interior design firm and make it "big", download our Whitepaper today. To learn more about how VR can enhance your business workflow, sign up for our FREE 5-day email course.