2021 has been a big year for all of us, especially those in the VR industry. With the introduction of the hybrid workplace, many professionals have had to rework, rethink, and rejig how they utilize the platforms and technologies they relied on during their remote work period. And this year, we have seen VR users and enthusiasts do just that.
While many assumed phasing out remote mobile tech when professionals were able to return to the office seemed like the next logical step, internal teams and stakeholders quickly realised the flaws in the logic. Especially in such a precarious business climate where nations could head into yet another lockdown at any moment, it's important for teams to continue to stay vigilant and flexible no matter the situation. And since remote technologies were built to seamlessly connect members, teams and clients, businesses shifted to incorporate remote tools as an asset in their tech stack.
Although we are just a few weeks from saying goodbye to another year filled with novel challenges, in this week's post, we'll be taking a look back on the best of VR technology in 2021.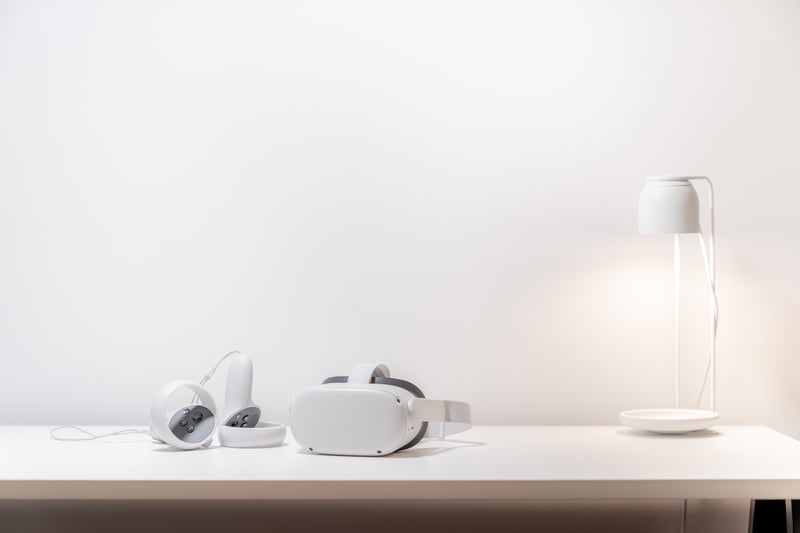 The Headset that Reigned Supreme
With an estimate of 10 million units sold, the Oculus Quest 2 continues to reign as one of the most loved and used VR headsets this year. With the Qualcomm Snapdragon XR2 chipset, 6-degrees of freedom, and a completely mobile rig-less setup, the Quest 2 supports one of the most stunning, immersive, and engaging VR experiences. Not only is the headset a compact powerful machine, but Oculus has also mastered the art of onboarding new users. So whether you have never tried on a headset before or are completely new to VR technology, their steps on setting up the headset are almost like a game, making it incredibly easy and pain-free.
At $300USD, the Quest 2 continues to be one of the most affordable options in the market for what you get with the headset. We love it at Yulio, especially when using it for business applications since it's truly a headset you can grab-and-go and use during any resumed in-person meetings, trade shows, or events. It's definitely a piece of tech that will attract and draw curiosity from prospects, which is why it is also our pick for the best VR headset of 2021.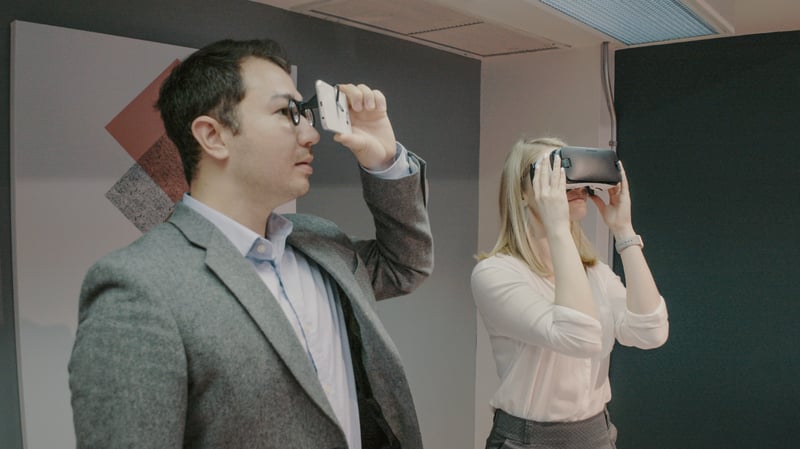 The Hybrid Workplace
You might be reading this post from your desk or the comfort of your home - that is the beauty of the hybrid workplace. However, perhaps you can relate to the many professionals who found it challenging scheduling a time to meet with a client's differing hybrid workplace schedule or have realised the pandemic has widened your clientele to farther cities, states or even countries.
One shining way virtual reality, namely mobile, solutions supported businesses was to empower them to stay flexible by providing an engaging and stunning presentation anytime from anywhere. So whether your client would prefer to meet in-person or cannot make it to the office, you can still present to them the same captivating presentation and environment. Ultimately, mobile VR solutions equip teams with the power of flexibility, being able to seize every opportunity, and overcome obstacles and inconveniences with the use of technology.

Bigger and Better Virtual Showrooms
And lastly, this year was the year for bigger and better showrooms. With the resumption of in-person trade shows and events, 2021 was the year for businesses that were looking to revise or build on their previous showrooms. And our team at Yulio have been fortunate to partner with businesses from various verticals to further build out their vision of their dream virtual showroom.
During the height of the pandemic, Malibu Boats partnered with us at Yulio to build out their first virtual showroom to continue selling and engaging clients despite the distance. And now in 2021, Malibu Boats released their latest collection in a brand new stunning immersive showroom, giving their customers the ability to access and explore their products in an interactive experience. Fit with product specs, customers can find all they need when considering their purchase.
---
It has been a fantastic 2021, and we hope you enjoyed our recap on all the best of VR technology, its happenings, and how the technology continues to be utilized this year and for years to come.
If you're interested in learning more about Yulio, building your virtual showroom, or how you can get started, schedule a time to chat with our team today. Or if you're ready to explore our platform for yourself, sign up for your free trial by clicking here.