Like so many businesses, this time of year is when we take a step back to assess what we have accomplished as well as draw from our expertise as to what we and others in the industry can expect in the following new year. Here at Yulio, new year predictions has become a tradition of sort, where we share with our community trends that will most likely appear in the coming year. However, none of us predicted how business and our world would look drastically different compared to the many years before.
Just taking a look back, a year ago on this day, we announced the newest update to Yulio Jump, our cloud-based rendering platform for SketchUp and CET Designer. Just a few weeks later, we shared how VR will continue to only get better as well as brand new technologies that would further optimize operations and our daily lives. However, when the COVID-19 pandemic hit North America, much of what we predicted for 2020 came into fruition, but just in a different form than we imagined.
Today, we're back with another piece where we will be looking forward to what 2021 has in store for the VR industry, and what we can expect from this immersive technology in the new year.
1. The Next Generation of VR Headsets
Every year, all of us at Yulio anticipate how leading VR hardware companies will continue to push the boundaries of what's possible with virtual reality. From industry favourites like the Valve Index to Vive's line of high performance Cosmos headsets, VR hardware has only gotten better with each passing year. Take Oculus for example, in just two years, they have produced some of the most revolutionary and advanced VR headsets currently on the market. From the unforgettable release of the Go, one of the first mobile headsets, in 2018 to the Quest, the headset that combines the quality you would get from a tethered experience in a standalone format, it only took Oculus just a few years to create hardware that changed the industry.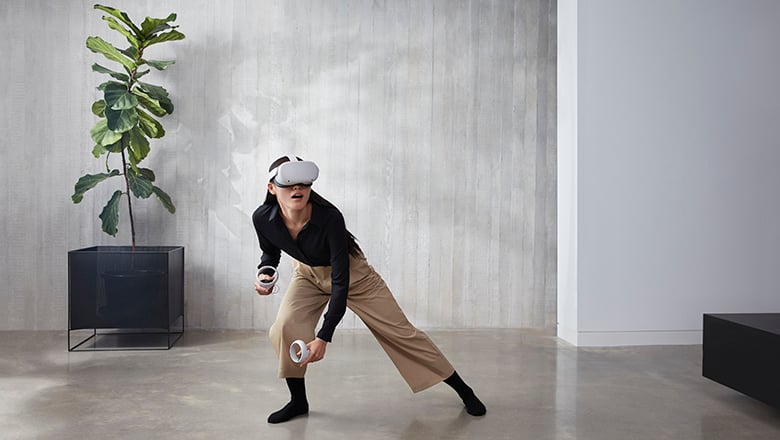 In the new year, we look forward to the next generation of VR headsets. However we predict as the COVID-19 pandemic is still running rampant in a number of countries, VR hardware companies will shift their focus to further optimizing their existing line of headsets or more mobile solutions especially for Enterprise solutions. While tethered headsets like the Oculus Rift give some of the most immersive VR experiences, the lack of accessibility as well as the steep start up costs will make it harder for businesses to share their VR projects with their clients. We may be seeing further updates that will support remote employees in the near future.
2. Greater VR Training Applications
The skills development sector has definitely made full use of the immersive capabilities of virtual reality. One of our favourite use cases we have seen from this year is the healthcare industry utilizing virtual applications to help onboard new staff and train front line workers in the brand new COVID-19 safety protocols that went into immediate effect. We've seen hospitals partner with VR companies to help guide healthcare workers step-by-step on the proper way to put on and take off their Personal Protection Equipment (PPE) to ensure they stay safe while tending to others fighting the illness and after their shift is done.
In 2021, virtual reality will continue to play a huge role in the healthcare field. Many within the healthcare industry were already utilizing the immersive capabilities way before the pandemic. Medical schools have been early adopters and avid supporters of the technology in the way it gives their students the ability to get as close to performing certain procedures without extraneous risk. VR has become an important tool in the healthcare field as it allows medical professionals to practice steps and techniques without putting a patient in harm's way as many times until it becomes second nature. With hospitals still working at full speed and schools possibly still closed for physical classes at least for the first few months, VR will continue to prove to be a valuable piece of technology in 2021.
3. VR in Education
On a similar note, the education industry has also been able to utilize VR in enriching their student's remote lessons. So many schools and institutions had to make the difficult choice to close their doors until further notice to keep teachers, faculty and especially the students and their families safe during this time. However, it's no secret that this pandemic has drastically affected how students perform in school. Reports of lost motivation, lack of social learning and Zoom burnout have become huge concerns for those in the education field with little option as to how to make remote learning a better experience for everyone involved.
Although there isn't much that can beat being in-person and learning together with fellow classmates, VR has provided an alternative for both teachers and students to experience deeper learning regardless if they're in the classroom or not. A number of teachers have already started implementing VR into their curriculum to mitigate the effects of remote learning and will most likely continue to use this technology in the coming new year. The best part is that many VR companies have already started creating more content and resources for viewing in the virtual format, expanding further materials educators can incorporate into their lessons.
2021: The Year for Remote Support
It's been a difficult year for so many businesses and industries reworking operations to fit the brand new remote format. So many of us have had to become tech experts overnight and take crash courses on which applications and tools will adequately support us until we are able to return to our workplaces, offices, and schools.
With the huge surge in demand for remote and mobile solutions, 2021 will likely be the year where all platforms will revamp and reconfigure themselves to be able to create the most seamless accessible experience for the end user. Greater attention to ensuring collaboration within immersive experiences and upgrading how we interact with each other in VR will most likely be a huge area of focus for many VR for business applications.
While it most certainly has been a strange and challenging year, all of us have had to exercise our skills in adapting and overcoming novel obstacles. And with all the valuable lessons we have learned this year, we all can enter into 2021 with greater preparation as well as excitement for what's to come.
---
We would like to take this moment and thank you all for spending another year with Yulio.
It has been a great year being able to continue to create new features for our platform as well as connect with you all during this time. As always, if you would like to reach out to our team with any feedback, feature suggestions or to learn more about our platform, you can contact us here - we would love to chat with you. If you have yet to explore our platform out for yourself, what are you waiting for? Sign up for our free 30-day trial to get started in creating your first VR project today.