Virtual solutions have continued to play a crucial role for businesses during this lockdown period. Not only has it allowed professionals to connect with their colleagues and clients, but it has also presented brand new opportunities to outreach to a wider audience. If there is one thing that this seemingly sudden indefinite remote work period has taught all businesses is that the business climate will always remain unpredictable. In order to avoid long and strenuous transition periods, we all need to not only consider but start adopting platforms that are mobile, flexible and effective.
While it's no secret that this time of remote work has affected all businesses, industries like commercial design, namely interior design, have had to completely rethink and adapt how they meet and present to their clients. We understand that face-to-face interactions and meetings are incredibly beneficial for reading body language, answering questions in real time, and receiving feedback. However, with continued government-enforced regulations, all professionals including interior designers can no longer host in-person meetings with clients. And while you could send your 2D renderings via email or start a video conference with your clients, there is a better and more impressive way to present your ideas even when working from home.
There is great value in using VR in interior design during lockdown. Not only can its immersive features be used to engage your clients effectively, but it can be a fantastic platform for collaboration while protecting both yourself and your clients during this time. So let's explore how exactly applying VR in interior design during lockdown will be beneficial for all interior design professionals.
1. Grab Your Viewer's Attention
Chances are you're probably using Zoom to meet with your team and clients during this quarantine period. We too have been enjoying using Zoom to host meetings with our clients or to check-in internally to see where we're at with our tasks. However, perhaps you're starting to experience Zoom fatigue where you're getting a little tired of sharing your screen and would like to explore options that can present your designs in a visually stunning yet engaging way.
Although Virtual Reality isn't particularly "new" technology, your clients may have never had the opportunity to use it before, let alone for business. And while the most popular uses for VR is in the gaming industry, the enjoyment and fascination that comes with using it for entertainment can also be harnessed for businesses too. When your clients slide on a VR headset or a mobile accessory like the Homido Mini, they will be immediately transported into your vision and now able to experience it for themselves. And like with most people, novel experiences that are interesting will more likely catch and sustain a person's attention. Because there is so much stimulus within a VR experience, there is something new to see when looking up, down, and all around. But we know you may be saying:
We're currently in quarantine, I don't have a headset let alone know if my client has access to one. I think Virtual Reality isn't for me.
Actually, VR is absolutely for you and the hardware isn't necessary for an immersive experience. While it would be an even more transformative experience to literally see from the perspective of being inside your vision, you can still view your project in full 360 directly from your browser. So whether your clients have a headset or not, VR is a fantastic platform to keep your client's engaged and their attention focused during your presentation.
2. Collaborate
We know that VR can oftentimes seem like an isolating experience. Especially when using VR headsets, the hardware used to transport viewers into the immersive environment can only support a single user at a time. Not to mention our current remote work situation is a huge barrier for easy and accessible collaboration. Compared to looking up and asking a colleague for a second opinion or meeting with your clients to understand their points of concern better, remote work can often feel like a one-person job. However, the good news is that VR can and is a collaborative platform.
We created our Collaborate feature with a purpose to address a variety of significant points of friction. Since our Yulio platform doesn't require a desktop application and is accessible through your browser, Collaborate functions the same way. Regardless of the device you or your client is using, all you have to do to start collaborating is to send the link and viola -- it's that easy.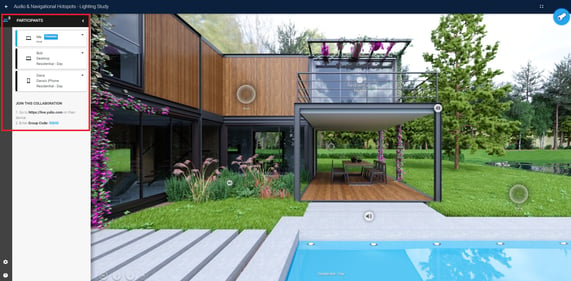 The most powerful aspect of our Collaborate feature are the controls that come with it. As the presenter, you can spotlight certain areas of your project that you wanted to point out or get feedback from corrections made from the previous iteration. However, you can also see exactly what your client is seeing too. Perhaps they have a question about a particular scene or point out a detail to the rest of their team, you can easily pass off the presenter controls to your clients to see exactly what they're seeing. And when you're done, you can regain control and continue on your presentation.
You can try out our Collaborate feature even on our 30-day free trial. To start using our most popular feature, click below:
3. Protect
As we continue observing social distancing during this time, we shouldn't expect for these regulations to lift once we are permitted to head back to the office. In fact, businesses are starting to plan on making their offices "COVID-19 complaint" in order to ensure the safety of everyone working in that space. Local government's like in Ontario, Canada have released their reopening plan, splitting it into 3 different phases. While we are all currently still on high alert, this worry and caution will not be dying down once we can physically meet each other. When restrictions are loosened and businesses are permitted to start opening their doors, heading back to the office will be met with a list of precautionary steps, such as:
A staggered schedule for when people are able to enter into the office
Strict disinfecting schedules for desk areas
Rethinking common areas and lunch tables
Reconfiguring conference rooms
And much more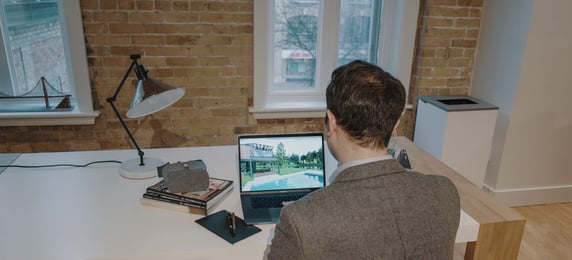 As your business and your client's business as well are making these internal modifications, the uneasiness and concern about safety will be on the top of their mind. And perhaps your clients don't feel too comfortable meeting in person shortly after returning to the office. Virtual Reality can bridge this gap by allowing you to still present your ideas while protecting yourself and your clients from any risk of exposure. Reducing the spread will continue to be on the top of everyone's minds and VR will be able to prepare you to work around your client's wishes and be prepared for any situation.
The Value of Virtual Reality
Using VR in interior design during lockdown or even when you head back to the office can not only breathe life into your vision but meet your clients where they're at. It's incredible how flexible this immersive technology is and how easily it can fit within your workflow and support you providing greater opportunities to connect with your clients. So whether you're looking for a brand new way to hook your client's attention or exploring alternatives to face-to-face meetings, VR could become your go-to tool to take your presentations to the next level.
---
To learn more about using Virtual Reality for business, sign up for our free 5-day email crash course that will give you all you need to know about how you can shape VR to work for you. For more resources on questions you need to ask before adoption VR into your workflow, click here to access our Whitepaper.