From the moment Yulio was founded, its mission has been making VR a practical and valuable tool for business. 'Wowing' people through immersing them in new and vivid experiences is all well and good but the pointy end of the stick for organizations is in engaging the attention of, and going on to do business with, new customers. This is every organization's lifeblood. So how can you achieve solid VR ROI and VR lead generation?
Embed Experiences
Any VR experience you create in Yulio can be embedded directly into your website with a simple line of code provided by our platform. That means you can share VR experiences with any website visitor. They can view your VR images in a browser, without a VR headset in what we call 'fish tank' mode. While this doesn't deliver a fully immersive experience, it does let you engage website visitors with a visually interesting environment as they scroll through a page. It's also a great way for you to leverage the investment you've made in VR design to show off your tech prowess and drive VR ROI. At Smith CFI, a workplace design firm, they share the VR experience they created with 360 photography on their site to drive interest in visiting the design studio they picture. And below the experience, they also call out their VR design experience.
You've probably seen this in action on realtor sites as well. Realtors can go beyond showing 2D images of new properties and offer site visitors a far more engaging view which they can control themselves.
Beyond just providing a novel experience, savvy marketers can choose to add a call to action like 'Want to view this in VR? We'll send you a headset." With bulk orders of branded plastic or cardboard headsets costing as little as a few dollars each, capturing contact details in this way and generating a new lead for the marketing and sales team to follow up with is a great value. Sharing your VR designs on websites or on social media help amortize your investment and drive VR ROI.
Spark Interest
For now, there's still a novelty around VR experiences which makes them engaging. And while your business may not lend itself to the heart-pounding effect of an Audi test drive around a virtual Nurburgring, the ability to place people in the heart of a new environment and give them the freedom to experience it as they choose is compelling enough to help you grab viewer attention and drive VR ROI. This sense of novelty can be used to capture leads in different ways including:
Learn how we did it!
Architectural or interior design firms can make great use of this through showcasing their designs in VR and offering to share insights into their designer's vision and/or secrets of their projects and processes with those who sign up to a webinar, newsletter or whitepaper. You can even showcase audio commentary from the designer embedded to provide teaser content when using Yulio's audio hotspots. Just add a call to action asking people to contact you to find out more about your design vision.
Offer Reassurance
We've discussed previously VR's ability to give people access to environments that are remote or that don't yet exist and this can be used to great effect by conference and events producers to drive registration for future events. Conferences can be an expensive undertaking - a company is being asked to part with tens of thousands of dollars in upfront costs for sponsorship, securing of exhibition floor space, staff passes, accommodation, etc, for an event. So the ability to immerse the decision makers in a preview VR experience has the potential to make all the difference. VR can make the hypothetical real, right on our website. Offering a virtual tour created either from 3D designs or captured footage from previous shows, or both enables viewers to take a close look at event facilities and understand advertising opportunities. We've seen this in tourism instances as well. Thomas Cook, one of the world's largest travel agencies, previewed tours of Manhattan to British clients and saw a 190% increase in bookings from VR ROI. Carnival cruises have tried this too - they can sell cabin upgrades more easily when prospects can "feel" the difference. Creating VR experiences are a significant investment and leveraging them across your website and social media as lead generation tools will improve your VR ROI.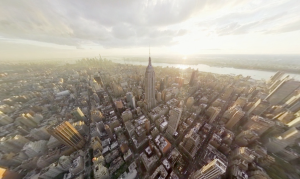 Show Off
Product demos are also potential for VR lead generation. On the consumer side, we've seen companies like Audi and Lexus take the plunge to VR in their showrooms, but expanding this kind of experience to show on a website can make it a lead driver.
Stand Out
VR lead generation can also factor into in-person sales. Arming your sales team with VR content and simple, portable headsets like the Cardboard or Homido can give them a chance to stand out. SiriusDecisions reports that 70% of the buying process in a complex sale is already complete before prospects are willing to engage with a live salesperson. That means your team has a limited window to make an impact. VR lets your salespeople tell a new story that buyers may not have uncovered in their own research, and start forging emotional connections faster.
Use VR Intelligence
Much like marketers have poured over website data like Google analytics data, Yulio VR can deliver its own detailed analytics that can be leveraged by marketers to drive new leads. Yulio's platform has been designed to capture data on how, when and where people are engaging with individual VR experiences. How can this be used? Think of a situation whereby a VR experience has been created by an interior design firm to demonstrate its best work. This is then sent via an email blast to a handpicked group of developers who would make ideal new clients. By studying the VR analytics, marketers are able to get real-time insight on when the design is being viewed, how i.e. fish tank, Oculus headset, mobile, etc, and where it is being viewed from.
Through combining these insights, marketers are able to build a clear picture of not only the effectiveness of their actions but also take steps to engage further with those who have opened and viewed the design. As an example, if a design has been experienced with only a fish tank view, a cardboard headset can be offered to have sent as a gesture to deliver an even better experience.
Integrating VR into business practices can deliver a particularly compelling combination of experiences - those that are both novel and practical. By experimenting with different applications, tracking results and adding intelligent and strategic calls to action, VR can very quickly go beyond being a novelty and be a key tool for driving business. To find out more about creating VR lead generation for your to your business, sign up for our FREE 5-day email course to learn how VR can enhance your business workflow. And when you're ready to try your own VR design, sign up for Yulio Free - get access to everything you need to create a VR experience. The program never expires, and you don't need a credit card to sign up.