We're happy to introduce our Yulio feature release Explore mode as a part of Yulio's Collaborate feature.
With Collaborate you have the ability to see what other people are seeing, guide them to a spotlighted area and have everyone meet in the same virtual space. Now with Explore Mode, you can start your presentation with an auto pan throughout a VR scene and let all participants explore the full VR project at their own pace.

Any headsets you have at your meeting or tradeshow booth will be in the Collaborate session, and participants can explore the scene, but not leave the project you have chosen to present. People you're meeting with in-person will all be in the same session on headsets, and remote participants can join from anywhere, in a headset or our browser-based fishtank mode.
As a presenter, you can benefit from this new feature in many ways. One of the most effective use cases is engaging your visitors at the trade shows. Virtual reality has changed the entire trade show landscape by providing the opportunity to have an infinite floor space within the limited booth area. Bringing a VR experience to the booth attracts a higher volume of visitors and during peak times you don't always have time to accommodate guided tours. But you won't miss a moment if you can let booth visitors explore your scene on their own while you're interacting with other clients.
Plus, you can always give your audience the chance to establish a deeper emotional connection by inspecting the area of their most interest in detail right after the presentation or tour.
How do I Launch Explore Mode?

Start out by launching a Collaborate Session. To launch Explore Mode, hit the Explore button at the top of the Participant Panel.
During explore mode, as the host of the Collaborate Session, your screen will pan throughout the selected scene. Don't worry you can still interact with your screen at any time.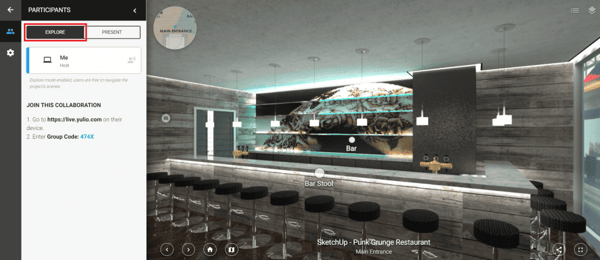 All other participants will have the ability to go off and explore the VR project you have selected for the Collaborate Session. They will be able to switch scenes and activate text/image/audio hotspots (if you have this ability turned on in Collaborate Settings).
To end explore mode and bring all participants back to the desired scene, click the Present button in the Participant Panel.
Some of the winning use cases from our user research:
Use Explore Mode to show off your VR portfolio in your lobby or office, with a constantly panning VR scene.

Trade show operation of VR is easier than ever, so visitors to your booth can play and explore a chosen VR project, even when you aren't able to guide them.

Allow your clients to explore the VR scene on their own and form emotional attachment before or after your guided experience.

Allowing your meeting participants to explore on their own will let them become more fully engaged with the project, and you can take control to provide a guided tour at any time.
This Yulio feature release is available immediately to all Yulio clients. To learn more visit our knowledge base. Or to try it out for yourself, sign up for our free 30-day trial (no strings attached!).