We're back with another Yulio Quick Tips, where we will be exploring a range of our features we have created for our Yulio platform and share how you can best utilize them in your VR projects. Our end goal for every single Yulio user is to equip them with the tools they need in order to create stunning and impressive immersive experiences on a platform that is simple and intuitive to navigate.
Here at Yulio, we understand that branding is an essential part of any business, big or small. Branding represents who you are, your values, and how you want to be perceived by prospects and your clients. And when it comes to your physical or digital assets, it's important to include your branding to tie your business to what you have created. Not only does it help distinguish your experiences from your competition, but it also solidifies your company's reputation in being forward-thinking industry professionals. And while paying attention to branding may not be high on your priority list, it only takes a few small steps to upload and apply your logo into your Yulio projects.
In this Yulio Quick Tips, we'll be sharing the features you can use to customize your VR projects as well as your Yulio application background.
Custom Branding
With Yulio's Custom Branding feature, your clients will be immediately greeted by your logo once "stepping" into your virtual showroom. When our team was building our Custom Branding feature, we knew that we wanted to simulate a sleek minimalist take on what it would feel like opening doors to a grand entrance. Our vision was to help get your clients prepared for your stunning VR experiences and to give you the opportunity to leverage your brand in VR.
With any immersive experience, we know that your two main objectives are to effectively and clearly communicate with your clients and to provide an extraordinary experience with your business. Ultimately, choosing to invest in a VR platform opens up more options to provide extra services to your clients and reinforce your brand to help you stand out.
First impressions are everything, especially in business. Which is why we built this feature to flash your branding in the first 5-seconds, making your logo the first thing your clients will experience and see when entering your VR presentation.


Best Practices:
Make sure your logo matches our file requirements:

File must be PNG

File size less than 75 KB

Resolution less than 1024×1024

Recommended height: 300 pixels

Enable this feature to be auto-applied to all VR projects for your company. This will help save you time on adding your branding to each project
Custom Lobby
When it comes to VR tools and platforms, oftentimes the end-user is stuck and has no choice but to work with the platform they have created. Sadly, not every platform is aesthetically pleasing, and especially when using VR client-facing purposes, you want to make sure that every detail of your experience is eye-catching, engaging, and will grab their attention. And while it does not interfere with the tool's performance, there is a great opportunity for businesses wanting to include their branding into every part of their immersive experience.
With any mobile Yulio experience, upon opening the application, you or your clients will be taken to the device's lobby. The Custom Lobby function allows you to customize the background environment, giving you the option to change the preset environment to match your company's branding better. Plus, this gives your clients a taste of your work and preview the project you specifically designed for them even before heading in.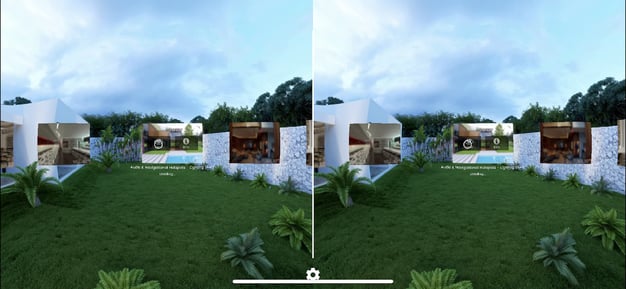 Best Practices:
When selecting your scene, make sure to choose one that still allows your projects to stand out
Choose a scene that doesn't have too much going on to really keep the focus on your projects
If the scene was already in your Yulio account, we recommend making a copy and renaming the new project to "Device Lobby" - this ensures no confusion across your teams
Default Starting View
The last feature that can help you customize your VR projects is Default Starting View. While this isn't directly related to branding, we created this feature to help you produce the most impressive projects possible.
Previously, if you wanted to slightly shift the scene's starting view just slightly to the left, you would have to either rerender your images or reshoot your space. Although this may pose as a slightly annoying step for those using CAD or 3D modelling programs, this is a huge inconvenience for those using 360 photography. Especially if the space was a showroom at a tradeshow that is already finished for the season, the opportunity to capture the moment is lost.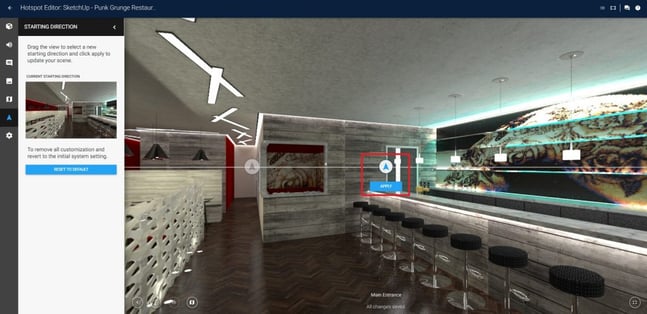 Default Starting View is a small yet significant feature, as it gives you control over setting the "money shot" of your scene. This feature is great at saving the back and forth by letting you change your view a few degrees over in any direction. So whether you would like to make a slight adjustment to your opening scene or would like to highlight a certain area or product within your space, you can do so easily and quickly with Default Starting View.
Best Practices:
Select a view that follows the logical line of sight, anything that is a bit disorienting can make it hard for your clients to navigate your scene
Don't forget to test out the new starting view to double check that it's looking the way you were envisioning
---
We hope you found these Yulio nvaigation quick tips helpful and gave you some ideas and inspiration on how to utilize our features in your future projects.
If you have any questions about these features, please feel free to reach out to us at hello@yulio.com or give us a call at +1 (416) 499 2227. To see the step-by-step guide on all our Yulio features, please visit our Knowledge Base.