While businesses have started transitioning back to the office, many have adopted the hybrid business model for the time being. This blended workplace arrangement combines office work and remote work, giving teams the flexibility to stay safe while returning to some degree of normalcy when navigating these uncertain times. Perhaps your clients are in the same situation, where they are slowly making their return to the office, but only working in the office every Monday, Wednesday and Friday of the week. In order to keep up with both you and your client's ever-changing schedules, utilize the features that already exist in your Yulio account.
Since we designed Yulio to be a versatile mobile VR platform, our users can continue to create, share, and collaborate in person or remotely. Even prior to the COVID-19 pandemic, we understood the importance and value of versatile tools, which is why Yulio is able to help you adapt to any situation and never miss an opportunity to connect with your clients.
While you are most likely familiar with our line of Hotspots or Floor Plan Navigation, here are 3 useful features for remote VR projects you can start including today.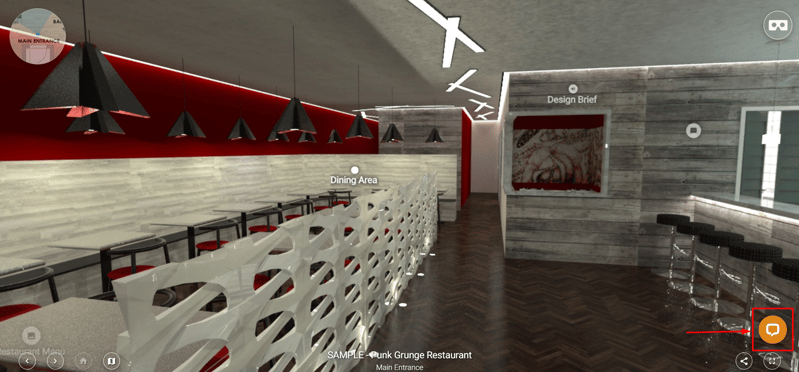 LiveChat
The Yulio LiveChat integration is one of our newer additions to our Yulio platform. If you aren't familiar or heard of LiveChat before, this software service is able to support businesses by providing a medium to assist and communicate with prospects and clients via instant messaging. You may have come across this function when visiting sites with an active chat box on the bottom left or right hand corner.
Especially during the height of the global lockdown, the Yulio LiveChat feature gave users the ability to interact and foster a greater connection with their project visitors. However, coming out of this remote work season, users should continue utilizing this feature in their VR projects. The biggest benefits of this capability is increasing engagement with your project visitors, transforming your projects into a marketing resource, and a tool to collect data for further follow up.
While this tool performs well in virtual trade show events, it's also fantastic for projects where you may want further feedback on a few quick revisions made. Prospects and clients can easily reach out to your team with questions about a certain design choice or interest in learning more about a product. And the best part about this feature is that anytime someone messages via the LiveChat box, your team or agents will instantly get notified that someone is trying to reach you. That way, you'll be able to make the most out of every opportunity.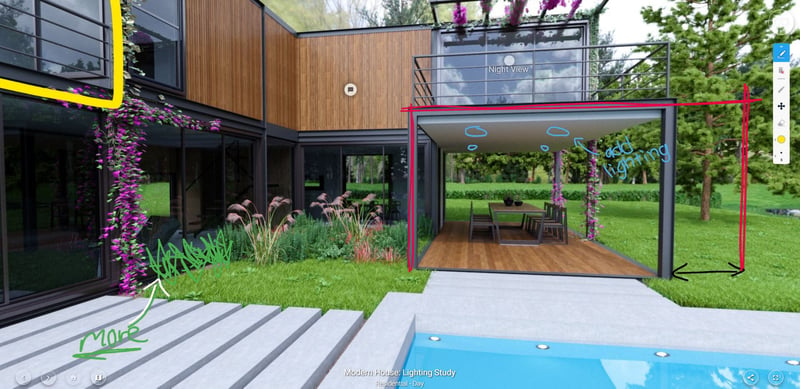 Project Markup
Project Markup was one of our most requested features, as it allowed users to be able to collect feedback on designs without needing to leave the VR environment.
How Project Markup works is after enabling the function, you'll notice the Markup icon in the top right hand corner in browser mode. Within the Markup tab, you can choose to leave text comments or draw directly on the project. Plus, you can control the thickness of your pen, erase your edits and choose from a variety of pen colors. And since we have all experienced the sinking feeling of closing a document before saving, all your edits will autosave so your project is always ready to go.
This feature is perfect for remote projects as it gives you a simple yet effective way to record feedback about elements of your design while your clients are actively looking at them. Plus, you can launch a Collaborate session and use Project Markup during your meeting to let your clients see their comments be applied in real time. This gives your clients the chance to see how you are actively listening, committed to achieving their vision, and engaged in the revision process. We have also added the extra capability to erase all your edits with Clear Scene or hide your markups to continue viewing your project unobstructed - you can do so by switching off the "Allow Project Markup" toggle off.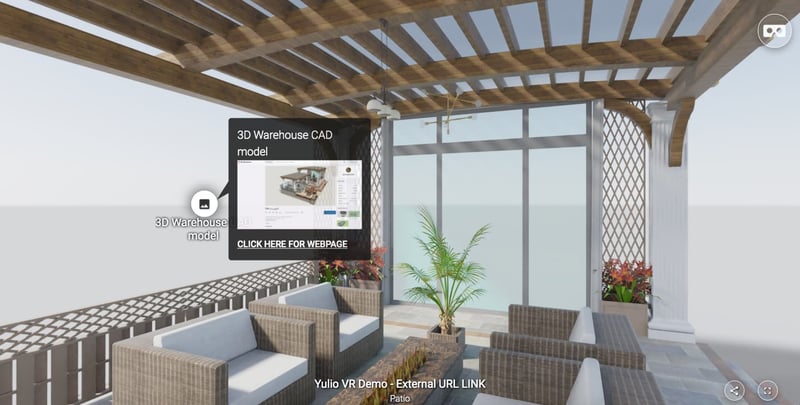 External Links
And finally, take your VR projects and turn them into an immersive digital "buy now" catalog. Like with any presentation or pitch, including too much descriptive text can be both distracting and uninteresting. This same principle applies to using our Yulio hotspots - it's a good practice to keep your descriptions to just one to two sentences. However, if you're hoping to send your virtual showroom or VR project showcase to your client, you can include further details and information by linking your pages with External Links.
External Links allows you to add any URL links to an image or text hotspot in your scene. This feature is incredibly versatile and helpful for those sending their VR experiences to clients working remotely. Whether you're looking to link a landing page with upcoming promotion details or further information on product / design specifications, you can do it all with External Links.
Here are some ideas on how you can use this feature for remote VR projects:
Link your homepage to learn more about your company and its values
Attach the PDF link to an online spec sheet
Include additional resources your clients can explore such as whitepapers or your blog if you have one
Link your contact us page
Add a link to your campaign landing page
Work Remotely with Yulio
We have connected with our users and many have expressed that while the end of the COVID-19 pandemic is in sight, they are still staying vigilant and ready for any situation. While so many places have essentially returned back to normal, other areas are still working at reducing their total daily case numbers down. So stay agile during this precarious period and enhance your remote presentations with these 3 Yulio features.
---
For full step-by-step guides on all our Yulio features, head over to our Knowledge Base here. If you're ever in need of help or guidance on how to use our tools, you can contact our support team at +1 (416) 499 2227 or email us at hello@yulio.com - we would be happy to assist you.