Since the beginning, we built our Yulio VR platform with one goal in mind: to be the best simple, intuitive, and easy to use VR presentation tool for business. Over the years, we have created a variety of features in order to equip our users with what they need for an outstanding experience in VR. From our line of hotspots to editing tools like MarkUp, Yulio has all you need to create engaging and memorable immersive client-facing presentations with ease.
Being able to navigate easily and do it smoothly is key to having a great immersive experience. Clicking in and out of your experiences can shatter the illusion of being inside the virtual space, diminishing the "wow" factor that comes with VR. Plus, especially when pitching to potential clients, it's important that your VR platform is doesn't cause too much distraction but rather play the supporting background role allowing your project to truly shine.
When it comes to navigating your Yulio projects, there are a number of ways to navigate from point A to point B and showcase the various scenes and configuration options for a project. Let's explore 3 Yulio navigation tools and when it's best to incorporate them.
1. Navigational Hotspots
If you're unfamiliar with what a Yulio hotspot is, Hotspots are interactive trigger points that you can use to link your scenes together or or to enrich your immersive experience. Navigational hotspots are one of our most used feature as it links your VR-ready scenes together, and provides a seamless way to explore your virtual experience. Perhaps you have 360-degree photographs of an office reconfiguration or a set of rendered scenes from a redesign project. All you have to do to create your visual story is upload your files onto Yulio, drag and drop the corresponding scene - and voila!
Explore this VR project with our Navigational hotspots!


This feature's point-to-point navigation makes it both easy to navigate in the headset and on your browser. With using Fishtank mode (also called browser mode), simply click on the hotspot to move into another scene. If you're using a headset, our platform makes use of gaze-and-go technology, which simply means lining up your gaze to the hotspot in order to trigger it to the next scene. Navigational hotspots are definitely a simple yet effective way in giving your clients the ability to explore your project with ease. While its main purpose is to get the user from one scene to the next, navigational hotspots serve a greater purpose in keeping your experiences interactive and engaging.
Best Practices
Use it to navigate open spaces -- allows you to see the area from every different angle

Add Navigational hotspots to scenes of different rooms to give a "tour" feel to your VR experience
Top Tip: Don't forget to add the hotspot label, select your colour, and play around with the depth slider. These feature allow you to customize your hotspots more to make them stand out or blend in to your projects.
2. Floorplan Navigation
The second Yulio navigation tool we'll be exploring today is Floorplan Navigation. As the name suggests, this type of navigation lets you jump from one point to another from the floorplan you have uploaded to your project. Floorplan navigation integrates a traditional way of viewing designs, the 2D "dollhouse" view with VR for simpler navigation and presentation of VR projects. Similar to adding Navigational Hotspots directly to your projects, you can add navigators to your floorplan, allowing you to accurately place the matching scene to where it would appear in your floorplan.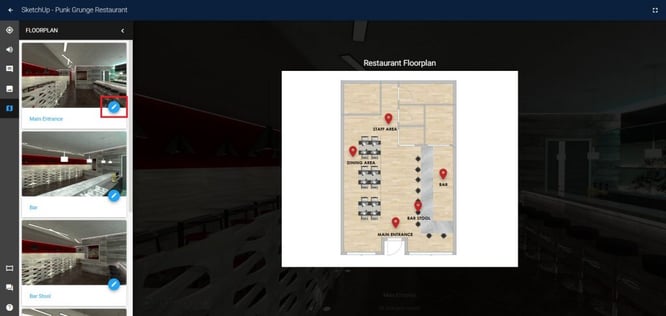 Just like you would when you're disoriented in a shopping mall or airport, floorplans give users greater context as to where they're currently positioned, and offers a way for them to head to another section of interest. This also helps bypass needing to click through a string of Navigational hotspots - instead you can teleport straight to another section with floorplan. It's simple accessing the floorplan in both browser mode and in VR. All you have to do is locate the floorplan icon on the bottom of your screen or VR experience and click or gaze to view.
Best Practices
Use it in larger, more intricate and scene heavy projects for more efficient navigation

Add in a floorplan instead of only using Navigational hotspots in your projects - bypasses the need to click through a string of hotspots before getting to where you want to go

Include a floorplan for for your VR showroom experiences for an easy way for clients to get from point A to B quickly
3. Scene Options
Scene Options is one of our newest features to our Yulio ecosystem. However, we added it to our line of Enterprise features to further answer to any points of friction you may come across when creating your VR projects. We know that many of our clients need to present a variety or variations and alternatives to a space or product. And while previously our users would just use an Image hotspot as a solution, we knew that we could do better.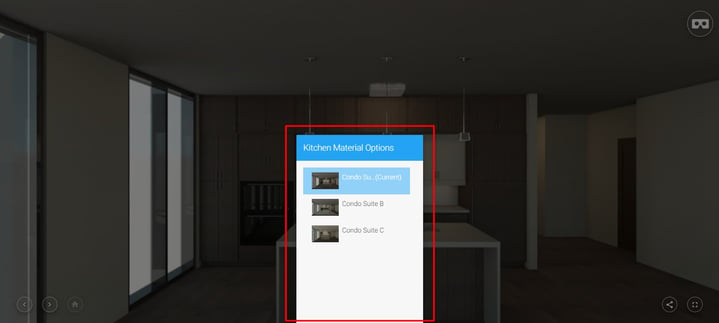 Located at the bottom of the screen, Scene Options operate similar to a tab or folder that gives you quick and easy access to all the variations you've built for a scene. Not only does this lessen the amount of hotspot overcrowding, it also allows you to continue to share your story while remaining immersed in VR. No longer will you need to switch from VR project link to another or flip to a catalog or 2D renders, all your variations can be housed in our Scene Options feature.
Best Practices
Use Scene Options as an organizational tool to store away your scene variations

Change up the configurations within the scene to highlight the space's potential and versatility

Following your client's feedback, upload before and after shots of the space to see whether they like the changes or would like to take a different approach
---
We hope you found these Yulio navigation quick tips helpful and gave you some ideas and inspiration on how to utilize our features in your future projects.
If you have any questions about these features, please feel free to reach out to us hello@yulio.com or give us a call at 416-499-2227. To see the step-by-step guide on all our Yulio features, please visit our Knowledge Base.