From the moment Mark Zuckerberg handed over $2billion for Oculus Rift, the starting gun sounded for the latest trip around the VR hype cycle. VR is not a new technology. The earliest incarnations have been traced all the way back to around 1860 in the form of panoramic paintings. By 1930, the first flight simulator using a version of the technology was sold to the US military to improve pilot skills. The first head mounted display was developed in 1960, first VR goggles hit the shelves in 1987, Lawnmower Man was released in 1992, and in 1995, Nintendo Virtual Boy. It's a list that illustrates just how long we've been flirting with the emergence of virtual reality and waiting for it plant some roots, to move beyond VR hype and become part of our lives. In its most recent incarnations, both in hardware and software, VR has undoubtedly taken a major leap beyond anything that's gone before. This momentum is due to several of the undisputed heavyweights of technology and innovation, Google, Facebook and Samsung throwing their weight behind it. From the newest, top-of-the-line headsets, which offer flawless visuals and precision motion capture, to $15 headsets such as Google cardboard which open the virtual field to anyone with a smartphone, VR has never been more accessible or its hype more pronounced.
So why does VR not yet touch the lives of every person, every day?
Doubts about the viability of VR to be part of the consumer mainstream are based on lagging headset sales vs. projections. Data Analysts SuperData predicted more than 2.5M PlayStation VR sales, 600K Oculus Rift sales. But 2016 sales fell short:
There was so much VR hype 18 months ago from electronics manufacturers and retailers alike that anything less than ubiquitous headset ownership seems like a failure. But there are some extremely logical reasons for that which we'll outline below. But bear in mind, almost none of these barriers have an impact on business use cases, where consumers or clients may use VR occasionally, and for very specific jobs. Beyond the gaming chair, VR has practical uses in healthcare, retail, architecture, design, real estate and manufacturing. Equating consumer disillusionment to a failure of the VR medium is a shortsighted error for businesses. Businesses who fail to spot the trend and the jobs they can accomplish with VR storytelling may be left behind if they only look at consumer disillusionment. The consumer barriers to VR are pretty easily overcome by businesses, and explain why the use cases may diverge.
Cost
43% of people surveyed by Thrive Analytics cited expense as the key barrier. There's no doubt that with A-list headsets such as the Oculus Rift, starting at $5-600 (which is about $100 less than the original cost - there was a price drop as of May 2017) - before you buy and set up the high-powered computer necessary to run them - jumping into the top end of the VR market is not for the faint-hearted and is expensive enough to challenge even the most indulgent of impulse buyers. For an emerging technology that is looking to prove itself and hasn't yet earned its place among consumer 'must haves', the price is undoubtedly playing a role in maintaining VR's position as a boutique technology. But for businesses, it makes a splash at trade shows and is increasingly a fixture in the offices of architects and designers and in retail experiences. The difference is that with a single headset, businesses can reach dozens of potential clients in the office or hundreds at a trade show. At potentially $2 per user at a tradeshow booth, and less each time the rig is used, the value is easier to find in a one to many scenarios than in a single consumer's personal monetary outlay. There are, of course, cheaper alternatives. Samsung Gear and Noon VR headsets cost around $100, and Homido Minis and Cardboards are $15. Each relies on a smartphone for its computing power and delivers different levels of immersive experience. They can be used by businesses or consumers and offer a solid VR experience.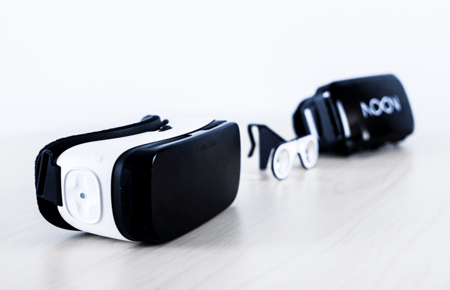 Comfort & Practicality
VR's propensity to cause nausea - which we looked at in detail in a previous post remains a key concern for new users -14% of users surveyed by Thrive Analytics. Through our own extensive user testing, we found that the ability to pop in and out of the headset reduces sickness significantly - those who may not want to wear a headset for hours of gameplay because they fear illness, will find they can glance at a business application for a few minutes with no issues. But there are other factors to comfort than nausea: Isolation Although tethered headsets offer the richest visual experience, some felt a discomfort with the blindfolding sensation of full immersion and having no access to real touch points to steady themselves. Again, when you're wearing a headset to do a specific job, like review a color scheme in your new bathroom….this isn't as much of an issue.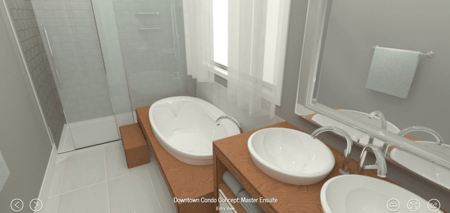 Appearance
Some of those testing became self-conscious, not only imagine how they might look to those around them while wearing a large (and some would say 'brick-like') headset but also how the apparatus would affect their personal appearance, their hair, makeup, etc. This unease was felt by both male and female users. For our business users, we combat this by removing straps and facilitating in and out experiences, which we predict is the winning pattern for business VR. While acknowledging that these barriers remain an impediment to VR gaining its mass consumer foothold, at least in the short term, the technology is undoubtedly taking root in the enterprise.
Tailored VR Applications for Business
The current state of consumer vs. business VR demonstrates the different places they are at in the hype cycle. Early business adopters have moved past inflated expectations, have worked through some solutions that don't fit and have moved on to the next phase, finding productive uses for VR storytelling and achieving ROI. It's because, in business applications, specific combinations of VR hardware and software can be tailored to suit different environments and address areas users are concerned about. We remove the straps and ensure navigation is simple with no controllers in all our demos. These subtle changes help users avoid feeling self-conscious and avoid nausea. And are more appealing in an office setting than in buying a new headset at home and cutting the strap off. And businesses are typically putting their clients in VR for short periods to accomplish specific goals. Not trying to entice them to wear the rig for hours of recreation time. According to Animation1 (2015) prospects who virtually engage with content become personally attached to the offering within the first thirty seconds. That's some serious speed to sale.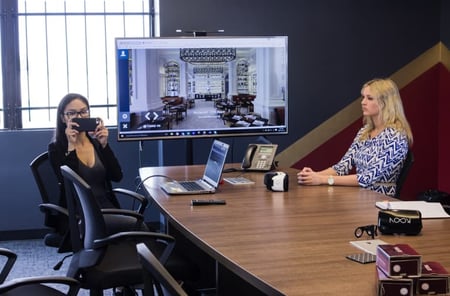 Business Leaders Moving Beyond VR Hype
Yulio clients are experimenting with VR to make spaces that are too complex to model more realistic. They have virtually reinvented blank warehouse spaces to show realtors the possibilities. They have modeled massive parks and public spaces in new home developments, and they are experimenting with audio and other creative plans to make VR design come to life.
Transporting customers to alternate realities is a natural fit for travel and tourism. Thomas Cook locations in the UK previewed a Manhattan vacation. They saw a 190% increase in sales of that package with people who used the VR preview.
The auto industry is innovating in both design and sales. Ford has used Virtual Reality to test design elements and solve engineering problems, while Audi is putting buyers in VR cars and letting them have virtual driving experiences. Toyota provided a public service by creating a VR experience about the dangers of distracted driving. "In our experience, new technologies that allow consumers to interact with virtual vehicles actually enhance the in-person test drive," Cooper Ericksen, VP-vehicle and marketing communications told AdAge. "Guests arrive at a test drive more informed about the vehicle. They know the questions they want to ask, creating a much more satisfying experience."
Retail giants are creating in-store experiences that speed time to sale. Lowes has their Holoroom, a design experience that lets people preview their design choices in-store, and take them home to share. Lowes was one of the first to use the technology from Marxent, whose CMO Sonia Schecter told PWC that waiting for fully realized ROI models can get you left behind in business: "

The other edge of that sword for retailers and manufacturers is that if they wait to get started, they'll be behind when a traditional ROI recipe does kick in. Emerging technologies are tricky that way."
Charity:Water and other charitable foundations are starting to call VR 'the empathy machine' as it drives up their donation rates and amounts to be able to transport a donor to a refugee camp, or see the promised future their donation can help create. The UN has a VR film called "Clouds over Sidra", and the donation rate for viewers is double that of people who haven't viewed the film.
So while VR hype continues to do battle with the real experiences of consumers, a growing number of businesses are finding that the technology is critical to creating an immersive product and design experiences. They are successfully applying VR technology to their operations and leveraging its unique capacity to engage, to educate, to communicate and to enthrall. To learn more about how VR can enhance your business workflow, sign up for our FREE 5-day email course.