Ultimately, there are two things you'll need to consider when buying a virtual reality (VR) headset for the first time: cost, and quality.
While there are dozens of headsets out there, and more joining the market every day (a quick Google search will leave you feeling more than a little overwhelmed), here are a few classics we recommend for business users.*
These Homido Mini Virtual Reality glasses are a revolutionary, pocket-sized alternative to traditional VR headsets. Although the experience (particularly because of the amount of external light they let in) won't be the same as a more enclosed headset, at this price, we can't complain.
The Google Cardboard, one of the first uber-cheap VR headset designs, has been a game-changer in democratizing virtual reality. It's easy to assemble, cheap to ship, and adds a bit of playful fun to the viewing experience. And, with online prices as low as $6, you can even have them custom-branded as a leave-behind for clients.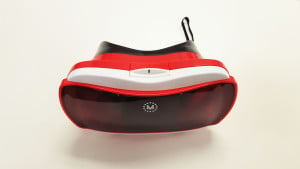 The View-Master VR viewer is a fun take on an old classic, with a low price tag and fairly decent quality. This is a great option if you're looking for something a little sturdier and more professional than cardboard.
Higher-end headsets
Higher-end headsets offer the best viewing experience, but this comes with a hefty price tag and often a more impractical viewing experience. We're currently working on early versions of the Yulio Viewer App for higher-end headsets like the Oculus Rift, the HTC Vive and Samsung's Gear VR. We'll let you know when Yulio is available for these headsets, but until then, we recommend giving one of the three listed above a try!
More info
If you want to explore your VR headset options for your business in more depth, check out these handy resources (just be warned that at the time of publication, the Yulio Viewer App is currently only available in the App Store and Google Play store, which means it's not yet compatible with tethered headsets or Samsung's Gear VR):
The ultimate VR headset buyer's guide
VR Headset Mega Guide: Features and Release Dates
Best VR headsets to buy in 2016, whatever your budget
* While we will frequently discuss external hardware and software, we would like to make it clear that recommendations are not endorsement and we are in no way affiliated with any of the brands or products mentioned below. We're simply giving you our honest (and hopefully helpful) opinions.
Want to get started with virtual reality? Sign up for a free trial and try it for yourself.